Sports Baby Shower Theme Party Details
After using these great Sports Baby Shower theme ideas you will hit a home run and score a goal with all of your guests, and the mom-to-be!

A Sports baby shower is a great theme if the dad-to-be is going to be there, if the family has a favorite sport, or if the baby nursery is going to be a sports theme.
So Get Your Game On and let's start planning a fun & cute Sports Baby Shower!
___________________________________
Sports Baby Shower Theme Invitations
If you want to choose one specific sport for your theme, a cute sports baby shower invitation idea is to cut your invitation in the shape of the ball or piece of sports equipment. For example, a football shape, helmet shape, baseball shape, mitt shape, volleyball shape, ice skate shape, etc.
A fun & cute idea for a general sports baby shower theme is to make the invitations look like tickets to a sporting event. Cut the invitations out in the shape of a ticket, something like this: Then print or write something like, "It's an All Star Baby Shower! Come celebrate the newest member of the Hansen Team. A baby boy due to arrive on June 14." And then stick a few sports related stickers on the invitation & voila! A cute sports baby shower inviation!
Another great idea for a sports baby shower theme invitation is Vellum. Vellum is a thin, semi-opaque, semi-clear, milky colored paper.
How is vellum used? To make invitations for a Sports baby shower theme, first go to a scrapbook or craft store and buy some sheets of sports, football, basketball, golf, hockey, swimming, ballet or other type of paper. You can get at least 2 invitations from one 8½ by 11 inch sheet (depending on how big or small you make the invitations). A 4" by 6" invitations is a recommended size. Also, at the store, buy the same amount of sheets of vellum. Also buy some ribbon or metal brads. You can use either the ribbon or brads to fasten the vellum to the paper.
Now for the fun part! On the computer, type up the information you want on the invitations. You could write something like this:
It's an All Star Baby Shower!
Come cheer on Sarah Green
and her upcoming baby boy!
25 August, 2005
2575 Sycamore Way
Given By Julie Cook
RSVP to Julie at 405-555-5545
Sarah and her little boy are
registered at Target.
Or something like that.
Next, print your wording onto your vellum. You may have to adjust and play around with the printer settings to get it to print two invitations on one page. So before you start printing on your sheets of vellum, use blank white paper first until you get it just how you want it. Then, print off as many as you are going to need. Then, cut the vellum down to about 3" by 5" size with the wording centered in the middle.
Next, cut your Sports themed paper to 4" by 6" size. Then place the vellum on top of the Hawaiian themed paper and fasten it at the top with two brads, equally spaced in the center. Or punch two holes, equally spaced (about 1-2 inches apart) in the vellum and the paper; then loop come ribbon through both the paper and the vellum.
Finish it by tying the ribbon in a cute bow on top.
You are ready to send them off!
If you don't want to use vellum, you could follow the instructions above, but instead of printing the wording onto vellum, just print the wording on a light-colored or white paper. Cut to size and you are done!
Or you could use these free printable sports baby shower theme invitations below to save you time & money: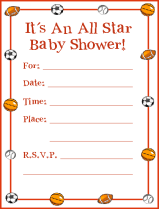 Sports Baby Shower Theme Invitations
___________________________________
Sports Baby Shower Theme Decorations
If the mother or father-to-be has a favorite sports team, then decorate with those colors.
A festive and original idea is to make a scoreboard to hang on the wall in your party room. HOW? Buy a black posterboard & some red colored paper. Using the red paper, draw and cut out numbers and using white paper cut out the words for the scoreboard. You could make it look something like this: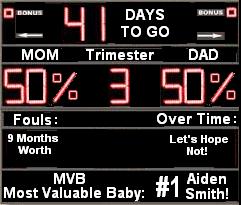 This is a fun way to mix a sports theme with the "baby" theme.
Make a sign that says, "Locker Rooms" or "Restrooms" and tape it to the door of the bathroom. Make a sign that says, "Bleachers" and put it on the wall by the chairs & couches. Hang one that says, "Concessions" over or near the food area.
Get some actual sports equipment and place it around the room. For example, shoulder pads, sports balls, bats, mitts, cleats, helmets, jerseys, whistles, etc.
Any type of fan gear would be great like pennants, big foam fingers, baseball hats, and hang them from the walls or ceiling or tables.
Have fun with the decorations!
___________________________________
Sports Baby Shower Theme Centerpieces
A darling idea is to string a clothesline up across the party room and with clothes pins, hang up jerseys, a sports onesie, a little ball cap, a little toy football or other sports baby gear.
Buy a balloon bouquet of sports balloons or sports colored balloons and tie them to a piece of sporting equipment like a ball or bat or trophy.
For a fresh, pretty sports baby shower centerpiece buy a Flower Bouquet with the colors of the expectant mother's favorite sports team.
Baby Shower Cake - Make your own sports diaper cake - Use these detailed, step-by-step instructions on how to make a diaper cake ...
Use a Football or Hockey Helmet and with removable alphabetic stickers spell the word "B A B Y" on one or both sides of the helmet and place on the center table.
Borrow or buy a stuffed animal of the mom & dad's favorite sports team Mascot and place on the center table. This softens the sports theme and makes it more "baby".
___________________________________
Sports Baby Shower Theme Games
In all reality, any baby shower game would be great for a sports baby shwoer theme because they all involve some level of competition!
A VERY fun idea for a sports baby shower theme activity is to have everyone at the baby shower sign a baseball or football (or other piece of sports equipment) with a sharpie marker. The mom gets to keep the autographed ball and always remember who came to her baby shower!
___________________________________

Best of Wishes on Your Sports Baby Shower Theme Party!