Pink Diaper Cake
This adorable pink diaper cake is a perfect touch for any baby girl's baby shower. Here is a picture and some helpful ideas from Gloria, one of our many truly wonderful readers!
This baby shower website would not be half the resource that it is without the contributions of our amazing readers. Gloria, among many others, has shared her creative and fun diaper cake ideas. And in so doing, has helped create a more Perfect Baby Shower online resource for the rest of us.
Thanks Gloria!!
Would you like to share your diaper cake ideas, pictures and/or instructions? Submit them here !
Gloria's Pink Diaper Cake
Gloria's Comments:
I used Luvs diapers the large pack and made these two cakes.
I used the crinkle shredded paper and stuffed it in between the diapers, I useda stuffed animal for the top and in the middle some rolled up receiving blankets. After I rolled up the diapers, I put a flat layer of diapers around them, kinda laying down so the ribbon would look nicer wrapped around the whole cake. This was the first one I made and it came out pretty good, nothing too fancy.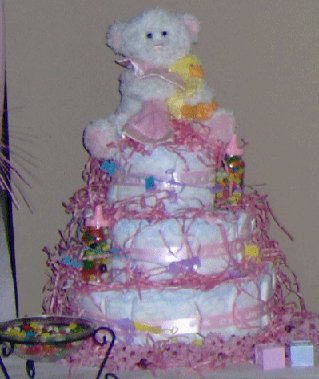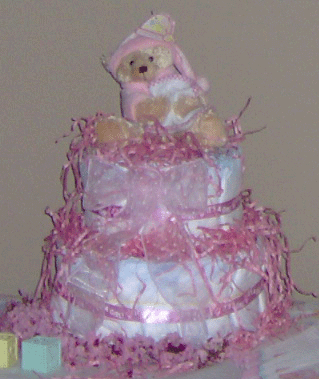 We love your two diaper cakes, Gloria! Thanks for sharing them with us!!
If you liked this pink diaper cake, then check out our Diaper Cake Picture Gallery for some more unique diaper cake ideas
Want to make your own diaper cake, but don't know where to start? Here are detailed diaper cake instructions that make it easy!