Makin a Splash! Baby Shower Diaper Cake
by Crystal
(Arlington, Virginia)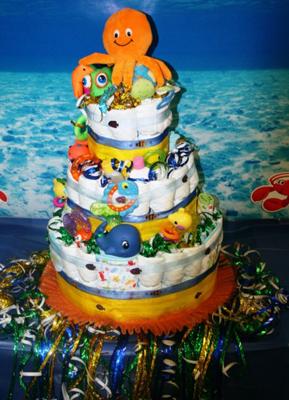 Makin a Splash
Here is another one of Crystal's fabulous diaper cakes! She is SO creative and we are thrilled to have several of here diaper cakes posted on our site! Take a look at her other diaper cakes and baby shower crafts... Her Makin' a Splash diaper cake is so colorful! I love the use of ribbon and toys...it is so fun to look at her cake! Crystal, fantastic job! Thanks for Paying it Forward and sharing your cake with us!


Do you have a diaper cake that you'd like to share? Add your creative flair to our diaper cake gallery right here!

Crystal's Comments:
I got ideas on the web and came up with my own Makin' a Splash Diaper Cake themed baby shower decorations. This was my 2nd diaper cake within months of my first, so I was getting a little better at it. However, I did learn a lesson. I found the cutest diapers printed with light blue fish net on them. They were also scented. This 3 tiered diaper cake had sooo many diapers the smell was overwhelming. I had to bag it to control the smell and explain to the expecting couple they'd better dismantle the cake or they'd both be nauseous.



Go to our Diaper Cake Gallery right here!