How to Plan a Hawaiian Baby Shower Luau Party
Aloha!

A hawaiian baby shower theme is a classic party because everyone loves the food, grass skirts, leis and music.
In Hawaii, a luau is a celebratory feast for special occasions like weddings, birthdays, births, and holidays. So, celebrating a new baby is a perfect reason to have a hawaiian party.


So grab your grass skirt and let's get planning this hawaiian luau baby shower!
___________________________________
Hawaiian Baby Shower Invitations
Make your hawaiian luau baby shower invitations fun and tropical by using stickers with seashells, leis, palm trees, beaches, hawaiian dancers, sunglasses or other tropical images or clipart on your invitations.
Buy some beach or palm tree patterned paper and print your baby shower party details on them & then put a baby sticker on them.
You could include in the invitation an invite to wear a hawaiian shirt or grass skirt for fun.
One of the best idea for cute and easy invitations is using vellum. Vellum is a thin, semi-opaque, semi-clear, milky colored paper.
How is vellum used? To make invitations for a Hawaiian baby shower theme, first go to a scrapbook or craft store and buy some sheets of Hawaiian, palm tree, beach or tropical paper. You can get at least 2 invitations from one 8½ by 11 inch sheet (depending on how big or small you make the invitations). A 4" by 6" invitations is a recommended size. Also, at the store, buy the same amount of sheets of vellum. Also buy some ribbon or metal brads. You can use either the ribbon or brads to fasten the vellum to the paper.
Now for the fun part! On the computer, type up the information you want on the invitations. You could write something like this:
Come Say "Aloha" To Jennifer Smith
& Her Upcoming Baby Boy!
It's a Baby Shower!
25 August, 2005
2575 Sycamore Way
Given By Julie Cook
RSVP to Julie at 405-555-5545
Sarah and her little boy are
registered at Target.
Or something like that.
Next, print your wording onto your vellum. You may have to adjust and play around with the printer settings to get it to print two invitations on one page. So before you start printing on your sheets of vellum, use blank white paper first until you get it just how you want it. Then, print off as many as you are going to need. Then, cut the vellum down to about 3" by 5" size with the wording centered in the middle.
Next, cut your Hawaiian themed paper to 4" by 6" size. Then place the vellum on top of the Hawaiian themed paper and fasten it at the top with two brads, equally spaced in the center. Or punch two holes, equally spaced (about 1-2 inches apart) in the vellum and the paper; then loop come ribbon through both the paper and the vellum.
Finish it by tying the ribbon in a cute bow on top.
You are ready to send them off!
If you don't want to use vellum, you could follow the instructions above, but instead of printing the wording onto vellum, just print the wording on a light-colored or white paper. Cut to size and you are done!
___________________________________
Hawaiian Baby Shower Decorations
• This is one of the best decorations you can get: A raffia tropical table skirt for the food table and/or gift table. You could hang green butcher paper from the sides of a table and fray the edges by cutting slits up and down the length of the paper.
• Add some Tiki torch lights (the electric kind) around the party room (or outside if it is warm).
• Go to the grocery store and buy a few coconuts to place on the food table (for display, not to eat).
• There are some classy poster jointed palm trees you could buy at a party store to give your party room the "beach" feel.
• Get a little sand (from a landscape & garden supply store) and sprinkle it on your tablecloth on the gift table or coffee table). Then place large & small seashells, starfish, & sand dollars on the sprinkled sand.
• Get a real surfboard or make one out of an ironing board and/or posterboard. Then lean it up against a prominent wall in the party room.
• For classic Hawaiian party decorations, use bright orange, green, yellow, and pink or light blue balloons & streamers around the room. You could also light a fun, tropical-scented candle in the party room to give a fun "Hawaiian" fragrance.
• For a fun, slightly different hawaiian decoration, you could hang Hawaiian or travel posters on the walls.
• To put the "baby" in your hawaiian baby shower, you could buy a few small stuffed animals (like crabs or tropical fish) for the baby's room & place them in the party area.
• Because a Hawaiian luau is all about the food, have straw place mats for everyone at the meal table.
___________________________________
Hawaiian Baby Shower Centerpieces
Tropical Flower Bouquet - Use tropical flowers such as red Anthurium (the classic Hawaiian flower), Gardenias, Asian lilies, Orchids, or Bird of Paradise. Any combination of these will make for a gorgeous centerpiece and will smell tropical too!
For a very "Hawaiian" baby shower centerpiece, place a fresh pineapple, a coconut, a straw hat, a ukulele, tiki torch, hula girl, bananas, kiwis, and drape a few leis over it all. Some of these items can be hard to find so use any combination of the above list. Simple is sweet!
A Tropical Balloon Bouquet - Orange, yellow, turquoise, and pink balloons would be fun and festive and would make a great Hawaiian baby shower centerpiece. Get them the day of the baby shower (so they don't go flat) and tie them to the gift table or the Mother of Honor's chair.
Floating Hawaiian Flower Candles - There are some darling Hawaiian candles out there that float in water, so you could buy a little newborn baby tub for the mommy-to-be and fill it with water and float these candles during the baby shower for a delightful and fragrant centerpiece. Then after the shower you can give the expectant mommy the baby tub for a gift!
A Tropical Clothesline with a baby Hawaiian shirt and some baby bermuda shorts and a baby straw hat would be absolutely adorable! String it up on a wall or across the party room (somewhere out of the way of all the traffic) and hang your clothes with clothespins.
For a Hawaiian centerpiece that would also serve as a part of your baby shower menu, you could make a big bowl or several medium bowls of fresh Tropical Fruit. You could use pineapple, bananas, kiwis, coconut, mangoes, papaya, oranges, and/or guava. The bright colors of the fruit really complement a Hawaiian theme and serves well as the focal point of your party.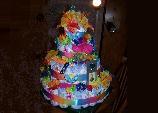 A Hawaiian Diaper Cake - Make your own baby shower diaper cake ( Click Here for instructions ) & decorate it with orange ribbon, yellow socks, a light green onesie, a pink bottle, turquoise baby shirt, etc. It will look bright and Hawaiian!
Check out this beautiful Hawaiian Diaper Cake submitted by Kris!
___________________________________
Hawaiian Baby Shower Games
• The limbo is always fun at a Hawaiian party BUT the Mommy-to-be would be at a serious disadvantage, so you better leave your limbo stick in the closet.
• One of the most enjoyable & memorable activities you could do at a Hawaiian baby shower is hiring a Hawaiian Dance instructor to come and teach everyone how to hula dance. This isn't really a game - but is a very unique and fun activity! Call the dance halls/instructors in your local area to see if they offer Hawaiian dance instruction. It can be surprisingly reasonably priced.
• Here is a great printable baby shower game for a Hawaiian theme:
Baby Around the World
Print out a copy of this free Hawaiian baby shower game card and give one to each guest. They must match each of the 10 languages to the corresponding word for "baby". The guest who matches them CORRECTLY first wins! Or you could give everyone a time limit and then at the end, read the answers and every guest who guessed correctly wins a prize!
• Any of these baby shower games would be fun and even though they are not specifically "Hawaiian" themed, they ARE "Baby" themed so they would be great to play at a Hawaiian baby shower.
___________________________________
Hawaiian Baby Shower Favors
• Little packs of Floating Flower Votive Candles
• Hawaiian Bath Gels
• Hawaiian Body Lotion
• Macadamia Nut Chocolates - YUMMMMMMM!
• White Chocolate Macadamia Nut Cookies - You could bake these yourself and wrap them in a little celophane bag. Inexpensive, Delicious, and Hawaiian!
• Bags of Tropical Fruit Trail Mix
• A Fresh Pineapple for each guest. There's nothing like fresh fruit!
___________________________________
Hawaiian Baby Shower Gifts
• Little Baby Hawaiian Shirts
• Any Baby Clothes that have any of the following:
   Hawaiian
   Tropical
   Beach
   Palm Tree
   Bright & Tropical colors (red, orange, yellow, green, pink, turquoise blue)
• A stuffed animal of tropical fish, toucans, dolphins or Lilo & Stich
• Any little Lilo & Stitch baby onesies or clothes
___________________________________
Hawaiian Baby Shower Food
• Hawaiian Island Punch
   2 qt. bottles cranberry juice cocktail, chilled
     1 (46-oz.) can unsweetened pineapple juice, chilled
     2 c. ginger ale, chilled
     2 c. seltzer water, chilled
Makes about 20 cups.
• Tropical Fruit Smoothies - Don't forget the Paper Umbrellas!
   Banana Lime Sublime
     2 c. limeade
     1 banana
     1 c. lime sherbet
     3 T. coconut milk
     1 c. ice
Place ingredients in blender; cover. Blend until smooth. Serve immediately.
• Virgin Piña Coladas would be delicious at a Hawaiian baby shower!
• Fruit Kababs
    Dole.com has a fabulous fruit kabob recipe you can use.
• Hawaiian Barbecue Chicken
    6 chicken breasts, boneless & skinless
    1-¼ c. barbecue sauce
    1/3 c. soy sauce
    1 (15-oz.) can crushed pineapple, undrained
Combine ingredients for sauce. Spray baking dish with cooking spray. Place chicken in dish and pour sauce over top. Bake, covered, at 375° for 1 hour. Serve over rice. Makes 6 servings.
• Lomi Salmon
    ¼ lb smoked salmon
    ¼ c. green onion, diced
    ½ c. red onion, diced
    2 tomatos, diced
Shred salmon and mix with other ingredients. Refrigerate and serve as a salad, well chilled. Serves 6.
• Tuna Salad
• Seashell Macaroni Salad
• Coconut Shrimp
• Macadamia Nut Chocolate Dessert Here is an amazing macadamia cookie recipe ... Everyone will LOVE them!
But also add a little more flour (1/4 c.) than the recipe calls out for & read these reviews of the recipe for a few more helpful hints...
___________________________________
Best of Wishes on Your Hawaiian Baby Shower!