Halloween Baby Shower Game - Mommy's Little Pumpkin
Here is a free, printable, fun and memorable Pumpkin Halloween baby shower game. Some women don't like to play competitive baby shower games, so this one is perfect. Everyone writes down a thought, memory or advice from their own mother that may help out the new, expectant mother be a better mom.
Print one of these activity cards for each guest. I suggest printing them out on a heavy cardstock, so they are durable. After filling them out, give them to the expectant mother, who will then read them out loud to the whole group. It is something fun that the new mother can look back on and read them whenever she wants!
Printing Instructions below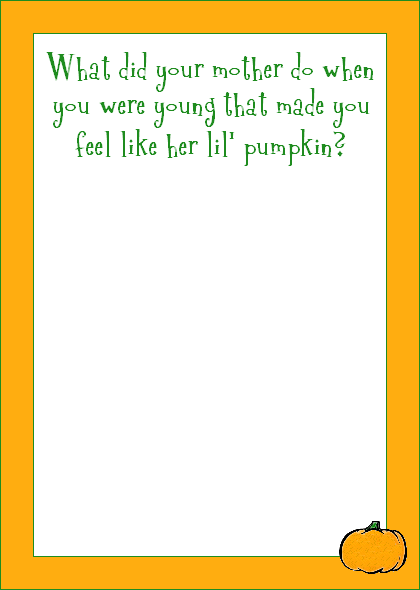 Printing Instructions: Right-click on the image you want and select the "save picture as..." line. Then, you will be asked which directory to save it to. Just save it onto your desktop or in any folder you want. Then on your desktop, double click on the image icon. When the image opens up, set your printer to the desired paper size and print the image (in color or black/white).
OR: If you have Microsoft Word, after you "save picture as..." explained above, open a blank document in Microsoft Word and go to the tab INSERT and then select PICTURE and then select FROM FILE. From there you just choose the directory from your computer where you saved the game card and click INSERT. And Voila! You can print it off as many times as you like.
I hope this Pumpkin Halloween Baby Shower Game & Activity help you!
This Pumpkin Activity Card is for your PERSONAL use only.
Here is another free printable Pumpkin Halloween Baby Shower Game