A Fun Little Pumpkin Baby Shower Game
Keep your baby shower all Pumpkin with this Little Pumpkin Baby Shower Game. It is pretty hard to find a free printable pumpkin/fall/Halloween baby shower game on the internet. In fact it is pretty much impossible - I tried! So, to help all of you throwing a fall baby shower, here is a fun pumpkin trivia baby shower game for you to print out.
Follow the printing instructions below to print one little pumpkin baby shower game card for each guest. Print your game cards on a thick cardstock, so they are more substantial than just a sheet of thin paper.
How to Play this little Pumpkin baby shower game: Give each guest a pumpkin game card and a pen or pencil. Have all the guests fill in the game card the best they can. Then, when everyone is done, read the answers out loud and have them grade their own card. The guest or guests with the most correct answers wins! Have a prize, like a pumpkin bread mix or a pumpkin scented candle to give to the winner.
Have fun!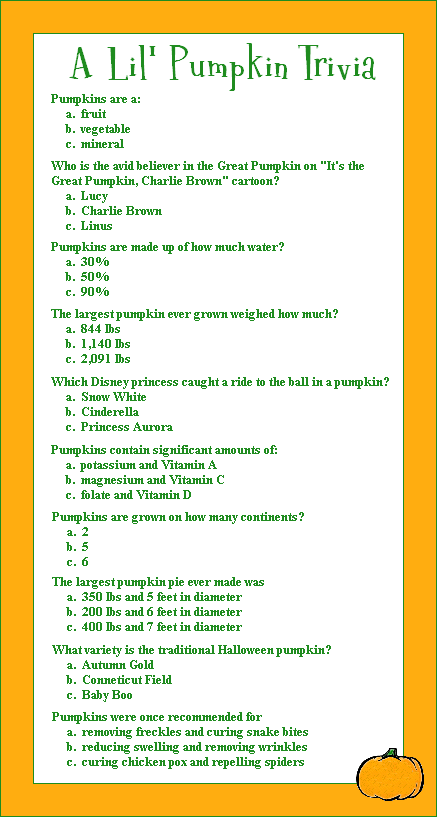 Printing Instructions: Right-click on the image you want and select the "save picture as..." line. Then, you will be asked which directory to save it to. Just save it onto your desktop or in any folder you want. Then on your desktop, double click on the image icon. When the image opens up, set your printer to the desired paper size and print the image (in color or black/white).
OR: If you have Microsoft Word, after you "save picture as..." explained above, open a blank document in Microsoft Word and go to the tab INSERT and then select PICTURE and then select FROM FILE. From there you just choose the directory from your computer where you saved the game card and click INSERT. And Voila! You can print it off as many times as you like.
The game will fit on a regular 8 1/2 by 11 sheet of paper.
Here are the Answers to the above little pumpkin baby shower trivia game. Write these answers down and bring them with you to the baby shower.
ANSWERS


Who is the avid believer in the Great Pumpkin on "It's the Great Pumpkin, Charlie Brown" cartoon?
     c. Linus


Pumpkins are a:
     a. fruit


Pumpkins are made up of how much water?
     c. 90%


The largest pumpkin ever grown weighed how much?
     b. 1,140 lbs


Which Disney princess caught a ride to the ball in a pumpkin?
     b. Cinderella


Pumpkins contain significant amounts of:
     a. potassium and Vitamin A


Pumpkins are grown on how many continents?
     c. 6


The largest pumpkin pie ever made was
    a. 350 lbs and 5 feet in diameter


What variety is the traditional Halloween pumpkin?
    b. Conneticut Field


Pumpkins were once recommended for
    a. removing freckles and curing snake bites


    
Click here for a matching Little Pumpkin Baby Shower Invitation ...
Good Luck on your Pumpkin and/or Halloween baby shower!