Free Baby Shower Party Games
- Baby ABC's Game Card -
These free baby shower party games & ideas are a LOT of fun and will help EVERYONE enjoy the baby shower!
This free baby shower ABC's game card is all ready for you to print off as many copies as you need for all your guests.
Printing instructions are found below at the bottom of this page.
This is the free printable baby shower game card - print one copy for each guest: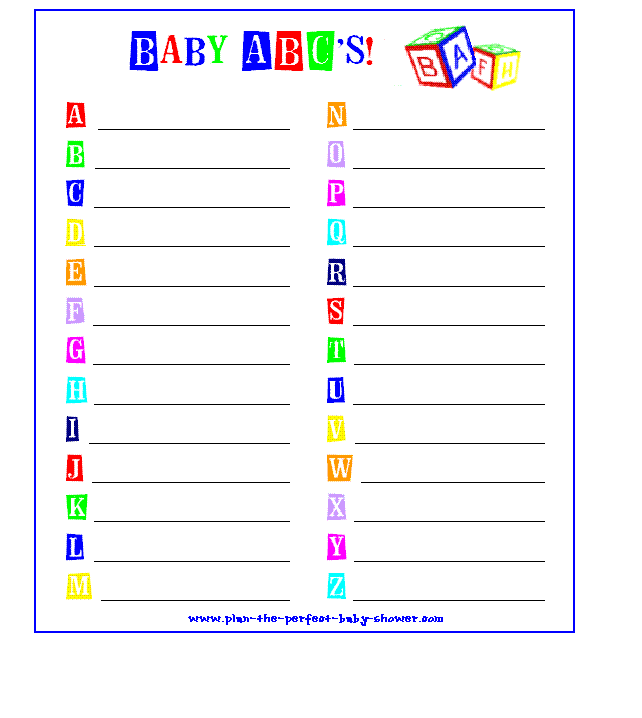 Printing Instructions: Right-click on the image you want and select the "save picture as..." line. Then, you will be asked which directory to save it to. Just save it onto your desktop or in any folder you want. Then on your desktop, double click on the image icon. When the image opens up, set your printer to the desired paper size and print the image (in color or black/white).
Or, a slightly better printing option:
If you have Microsoft Word, after you "save picture as..." explained above, open a blank document in Microsoft Word and go to the tab INSERT and then select PICTURE and then select FROM FILE. From there you just choose the directory from your computer where you saved the picture and click INSERT. And Voila! You can print this fun baby shower game as many times as you like.
Instructions for the game:
Preparation for this free baby shower party game: Print out the above list of A through Z letters, print one copy for each guest.
How to play this free baby shower party game: You can either do this individually or in teams of 2 or 3 people. Give each person (or team) a piece of paper and a pen. Have them fill in each space with a baby related item (or pregnancy related item) that starts with that letter. Give everyone 6 - 8 minutes to fill in the list. Whoever fills in the list most completely wins! Q, X, and Z can be tricky. Tell the guests to be creative. Click here for a possible list of baby terms ...
__________________________________________
Have Fun!!
Click here for more free baby shower party games ...
Free Baby Shower Party Games & Ideas