Chocolate Covered Pretzels DIY
Sweeten the party with these hip chocolate covered pretzels! Here are some delightful DIY instructions with photos, tips and ideas.  We used these for a Little Red Riding Hood baby shower theme, but you can make these tasty treats for any and all party themes. They are a sweet touch for desserts, appetizers and favors! Here are step by step instructions of how to make chocolate dipped pretzels: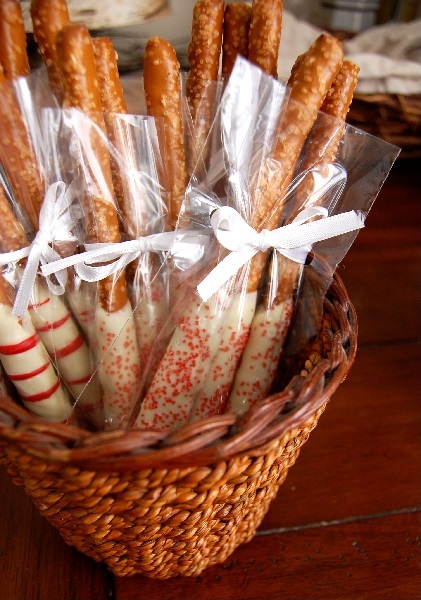 To make chocolate-dipped pretzels, all you need is white chocolate or almond bark, a bag of pretzels, and sprinkles or frosting to decorate. First, prepare a wire cooling rack with some wax paper or parchment paper underneath to catch the drips. Then, simply melt the chocolate in a bowl in the microwave, pausing to stir often. Once the chocolate is melted, dip the pretzels in.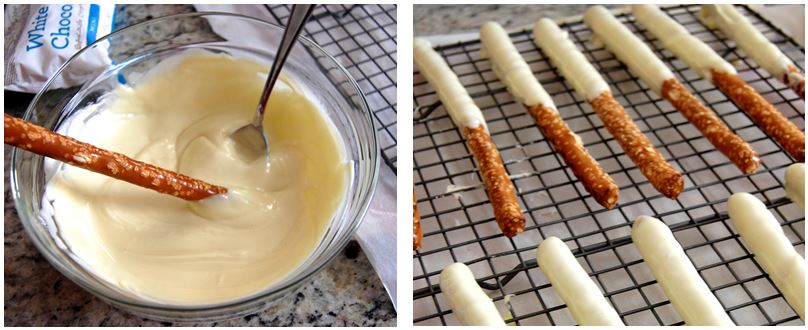 Shake off any excess chocolate and place the pretzels on the wire rack to dry. Apply sprinkles or frosting while the chocolate is still wet – I used red frosting and sprinkles for this party. I love the drizzled look, so I used a pastry bag and drizzled the red frosting back and forth on each dipped pretzel to dress it up.  I had to heat the frosting in the microwave first -- be careful not to burn your fingers or overheat the frosting!
I then placed the chocolate-covered pretzels into clear gift bags purchased at Michael's, three per bag, for guests to take home. You could also add food coloring to the chocolate to make it blue or pink based on the baby's gender. Or the sprinkles could be blue or pink – this favor is easily customizable. If the gender of the baby is a secret, favors can be kept pastel yellow or green to keep the shower gender-neutral.

If you enjoyed these DIY instructions for Chocolate covered pretzels, check out our other Little Red Riding Hood DIY ideas...free, classy ideas that are simple and chic!