Baby Shower Valentines Party Ideas
Happy Valentine's Day!

Here it is! All of your planning for a Baby Shower Valentines Party has been done for you RIGHT HERE! Even Cupid would be excited about all of these fun Valentines party invitations, games, favors, gifts, food, and decoration ideas!
Let's get started with the Valentine's Party Decorations...
___________________________________
Baby Shower Valentines Party Decorations
Begin your Valentines decorations with heart confetti and/or pink glitter sprinkled on the gift table, on or around the chairs, and the walkway leading up to your house. Confetti is easy to vacuum up later.
Next, string up a clothesline on a wall or across the room, and using clothespins hang up little red or pink baby clothes. Red if its a boy, pink if a girl. You could hang a little onesie, baby booties, a pink dress (if a girl), and a little pink or red baby blanket. These items can be your gift to the expectant mother.
Then get a roll white and a roll of pink or red streamers. Drape the two colored streamers together across the ceiling of the party room, twisting the streamers together as you go.
You could buy some pink or red balloons and fill them with helium to scatter across the ceiling of the party room.
A really cute idea is to take your pictures off the wall, take some Valentine themed wrapping paper and gift wrap each picture, leaving the back hanger exposed. Then rehang the pictures in their original places and they look like cute Valentines gift boxes! Be sure to add cute pink or purple or white bows.
Then cut out hearts by folding red or pink or purple paper in half, cut out half a heart and unfold. (Or use a heart shaped cookie cutter to trace the hearts). Hang these throughout the room from the ceiling, or tape them to the walls and chairs.
You could also go to a party store and buy 1 or more cutouts of a Baby Cupid to tape to the wall.
___________________________________
Baby Shower Valentines Party Centerpieces
A Valentines Baby Shower Cake – follow these free directions on how to make a diaper cake . Then garnish your diaper cake on top with several classy heart shaped decorations, a few roses, a pink bottle, and red or pink baby items.
A Bouquet of Red or Pink Roses - Roses are the flower of choice for Valentines Day, and nothing could tell a mother "We Love You" more than a bouquet of beautiful roses. And the fragrance adds a special touch to the party as well.
Display Huge Box of Chocolates (the heart shaped box) on an easel or in a prominent spot for your centerpiece. Few things catch a woman's eye more than chocolate! Then at the end of the baby shower, everyone can take part in eating the centerpiece!
A Valentines Baby Shower Balloon Bouquet - Plenty of red, pink and white balloons would be fun and festive. Throw a few Mylar heart-shaped balloons in for fun and you have a great baby shower centerpiece that will bring plenty of pink & red into your Valentine's party. Get them the day of the baby shower (so they don't go flat) and tie them to the gift table or the Mother of Honor's chair.
___________________________________
Baby Shower Valentines Party Invitations
There are quite a few darling ideas for Valentines Baby Shower invitations.
You could buy sampler size boxes of chocolates, tape your invitation to it, and slip each one inside a little box or medium size envelope. And mail them off!
Another creative idea is to send your invitations in a large envelope to the Postmaster in Loveland, Colorado. They will mail your invitations for you with their postmark of Loveland. How Sweet it is!
For the actual invitations, I think the best idea for cute and easy invitations is using vellum. Vellum is a thin, semi-opaque, semi-clear, milky colored paper.
How is vellum used? To make invitations for a Valentine baby shower theme, first go to a scrapbook or craft store and buy some sheets of Valentine, hearts, red, or pink paper (there are all types and styles of printed paper that fit a Valentine theme). You can get at least 2 invitations from one 8½ by 11 inch sheet (depending on how big or small you make the invitations). A 4" by 6" invitations is a recommended size. Also, at the store, buy the same amount of sheets of vellum. Also buy some ribbon or metal brads. You can use either the ribbon or brads to fasten the vellum to the paper.
Now for the fun part! On the computer, type up the information you want on the invitations. You could write something like this:
Where's the Love?
At Jennifer Clements' Valentine Baby Shower!
Please join us in honoring Jennifer
and her upcoming baby girl!
25 August, 2005
2575 Sycamore Way
Given By Julie Cook
RSVP to Julie at 405-555-5545
Jennifer and her little girl are
registered at Babies-R-Us.
Or something like that.
Next, print your wording onto your vellum. You may have to adjust and play around with the printer settings to get it to print two invitations on one page. So before you start printing on your sheets of vellum, use blank white paper first until you get it just how you want it. Then, print off as many as you are going to need. Then, cut the vellum down to about 3" by 5" size with the wording centered in the middle.
Next, cut your Valentine themed paper to 4" by 6" size. Then place the vellum on top of the Valentine themed paper and fasten it at the top with two brads, equally spaced in the center. Or punch two holes, equally spaced (about 1-2 inches apart) in the vellum and the paper; then loop come ribbon through both the paper and the vellum.
Finish it by tying the ribbon in a cute bow on top.
You are ready to send them off!
If you don't want to use vellum, you could follow the instructions above, but instead of printing the wording onto vellum, just print the wording on a light-colored heart patterned paper. Cut to size and you are done!
OR, easier still, you could use one of the following free printable Valentine's baby shower party invitations: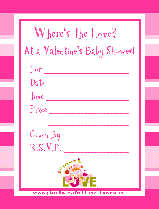 Baby Shower Valentines Party Invitations
___________________________________
Baby Shower Valentines Party Games
What I Love
When everyone is seated, go around the room and have each guest say (or write something down and then read it) something they LOVE about the expectant mother. Or you could have each guest write down on a little notecard something that they LOVED about their mother, or how their mother raised them. This can be very fun, and serve as advice cards on how to raise a baby. And the expectant mother can keep all the cards to remember everyone's comments.
Valentines Baby Shower Babble
Valentine's Day is a day of expressing love and calling your loved one endearing, affectionate names. This clever Valentines baby shower game is similar to Mad Gab. It is a hilarious list of terms of endearment that spouses may call one another. For example, "Hun He" sounds like "Honey", which is a common affectionate name that spouses may call each other.
How to Play: Divide the guests into teams of 2. Print one of these free printable baby shower game cards for each team. Give each team a card and a pen. The teams must figure out the riddles as fast as they can. Give them 5 minutes and whichever team gets the most in 5 minutes, or figures out all of the riddles first is the winning team.
   The players may want to read the riddles out loud, emphasizing different syllables or say the riddle faster or slower.
   The winning team must read the correct answers in front of everyone so that all the teams may hear the correct response to the game.
___________________________________
Baby Shower Valentines Party Favors
• Red Votive Candles
• Pink tinted baby bottles filled with pink Jelly Belly Beans
• Sampler Boxes of Chocolates
• A single rose bouquet
___________________________________
Baby Shower Valentines Party Food
- Pink Sherbet Punch
   1 quart raspberry sherbet
   2 quarts ginger ale
   1 quart pineapple juice
Chill juice and ginger ale before mixing. Mix together in a large punch bowl and add sherbet in one large block just before the party starts. Makes 25 servings.
- Chocolate Dipped Strawberries
- Fruit salad with the fruit in heart shapes
   2 c. cubed cantaloupe
   2 c. cubed honeydew
   2 medium kiwifruit, peeled, halved and sliced
   ¼ c. undiluted juice concentrate – orange, peach, mango, or orange-pineapple flavor
In a bowl, combine the cantaloupe, honeydew, and kiwi. Add somewhat-thawed juice concentrate; toss to coat. Refrigerate for at least 2 hours, stirring occasionally. Serve with a slotted spoon. Makes 6 to 8 servings.
- Cheese and crackers with the cheeses cut in heart shapes
- You could have a Make-Your-Own ice-cream sundaes.
Have pink and white (and chocolate of course) ice-creams, have pink and read toppings like strawberries, raspberries, maraschino cherries, pink candies, pink sprinkles, and whipped cream (use food coloring to make it pink).
___________________________________
Baby Shower Valentines Party Gifts
• Anything Red or Pink is Perfect!
   - Onesies
   - Receiving Blanket
   - Dress
   - Socks
   - Shirts
   - Pants
   - Towel
• A Valentines Diaper Cake - would be an adorable and unique centerpiece for any baby shower! They include many baby essentials and some Valentines decorations and colors, they would fit perfectly with your Valentine baby shower theme. Click here for directions on how to make your own diaper cake ...
___________________________________
Best of Wishes on Your Baby Shower Valentines Party!