Valentine's Baby Shower Game
This clever Valentines baby shower game is similar to Mad Gab. It is a hilarious list of terms of endearment that spouses may call one another. For example, Hun He sounds like "Honey", which is a common affectionate name that spouses may call each other.
Using the instructions below, I recommend that you print this game on a heavy paper or white card stock. That will give your game cards a classy and quality look.
Printing Instructions: Right-click on the image you want and select the "save picture as..." line. Then, you will be asked which directory to save it to. Just save it onto your desktop or in any folder you want. Then on your desktop, double click on the image icon. When the image opens up, set your printer to the desired paper size and print the image (in color or black/white).

ENJOY!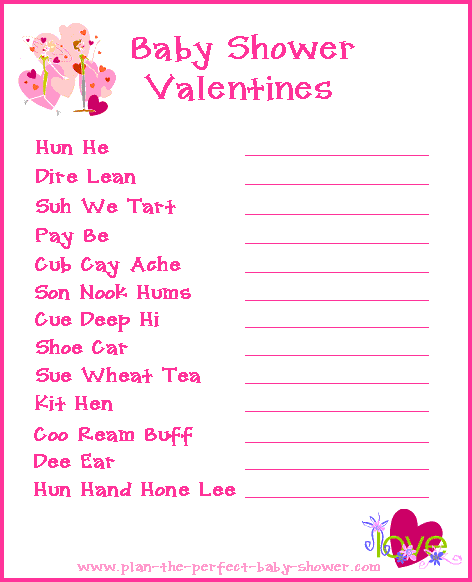 Another printing option: If you have Microsoft Word, after you "save picture as..." explained above, open a blank document in Microsoft Word and go to the tab INSERT and then select PICTURE and then select FROM FILE. From there you just choose the directory from your computer where you saved the picture and click INSERT. And Voila! You can print it off as many times as you like.
Baby Shower Game Instructions:
Divide the guests into teams of 2. Print one of the free printable baby shower game cards (above) for each team. Give each team a card and a pen. The teams must figure out the terms as fast as they can. Give them 5 minutes and whichever team gets the most in 5 minutes, or figures out all of the riddles first is the winning team.
The players may want to read the riddles out loud, emphasizing different syllables or say the riddle faster or slower.
The winning team must read the correct answers in front of everyone so that all the teams may hear the correct response to the game.
_________________________________
The Answers:
Hun He = Honey
Dire Lean = Darling
Suh We Tart = Sweetheart
Pay Be = Baby
Cub Cay Ache = Cupcake
Son Nook Hums = Snookums
Cue Deep Hi = Cutie Pie
Shoe Car = Sugar
Sue Wheat Tea = Sweetie
Kit Hen = Kitten
Coo Ream Buff = Cream Puff
Dee Ear = Dear
Hun Hand Hone Lee = One and Only
Click here for more Valentines Baby Shower Ideas ...
This baby shower game is free for your PERSONAL use.