Delicious Baby Shower Recipes
The best baby shower recipes, including new and trendy baby shower foods, are found here in this delicious collection of baby shower entrees, appetizers , punch & drinks , salads , and desserts !
All the recipes here can fit any theme or mood you are hoping to create at your party. So good luck and try not to eat all of it before your guests arrive! :]
Favorite ENTREE Baby Shower Recipes:
__________________________________________
TORTILLA ROLL-UPS
1 large package flour tortillas
1 (7 oz.) can diced green chilies
1 (4 oz.) can chopped olives
1 (8 oz.) package cream cheese
2 packages wafer-thin ham slices

Blend cream cheese, chilies, and olives until well mixed. Spread over single tortillas and place ham slices on top. Roll up and slice like a cinnamon roll and place a toothpick in to hold in place. These can be frozen and served later. Simply thaw out before party.
Baby Shower Recipes
__________________________________________
CHICKEN & FRUIT SALAD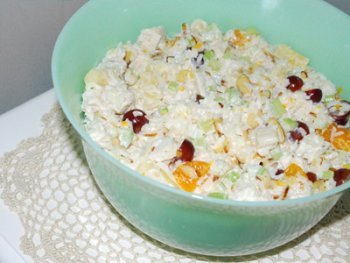 2 to 4 c. cooked chicken, cubed
2 T. vinegar
1 tsp. salt
3 c. cooked rice
1½ c. celery, chopped
1 c. red grapes, halved
1 c. pineapple tidbits, drained
1 c. mandarin oranges, drained & halved
1 c. toasted almonds
1½ c. mayonnaise
2 T. orange juice

Combine chicken, vinegar, and salt; set aside. Cook rice and let cool while preparing remaining ingredients. Gently combine all ingredients and refrigerate until served.
Baby Shower Recipes
__________________________________________
BROCCOLI CHEESE SOUP served in a BREAD BOWL
2 - 3 cups diced potatoes
1 cup carrots, sliced thin
½ cup celery, sliced thin
1/4 - 1/2 cup chopped onion
1 (16 oz.) package frozen, chopped broccoli

Add:
½ cup butter or margarine
3 chicken bouillon cubes
1 cup milk
1 lb. Velveeta cheese chunks

Simmer potatoes, carrots, celery and onion in 4 cups of water for 20 minutes. Add broccoli and cook for 7 more minutes. Add the rest of the ingredients and 2 tablespoons flour with water or milk to thicken. You will probably want to make this a day or two before the party, so refrigerate until day of party and simply reheat over the stove. Serve in bread bowls for a fun and delicious baby shower entree!
Baby Shower Recipes
__________________________________________
RUBY TUESDAY POTATO CHEESE SOUP
served in a BREAD BOWL
2 large potatoes, chopped
2 tablespoons celery, chopped
1 tablespoon onion, finely chopped
1 tablespoon grated carrot
2 cups chicken stock/broth
1 teaspoon salt
2 teaspoons white vinegar
2 tablespoons flour
1 1/2 cup milk
1 cup grated cheddar cheese
2 slices crisp bacon, crumbled

Combine vegetables, chicken broth, salt and vinegar in a large saucepan. Bring to boil, then cover and simmer 20 minutes. Whisk together flour and milk in a bowl. Add to soup and simmer to thicken 5-8 minutes. Add cheese; stir to melt. Sprinkle with bacon and serve in a bread bowl.
Baby Shower Food Recipes

__________________________________________





Click here for Baby Shower Punch Recipes
Click here for Baby Shower Appetizers
Click here for Salads and Sandwiches
Click here for Dessert Baby Shower Recipes