Creative Sugar and Spice
Baby Shower Invite
Ashlee from Oklahoma submitted this creative and very cute Sugar and Spice girl baby shower invite. I absolutely love it!! Thanks to Ashlee for sharing her creativity with the rest of us! She is helping to make this website a more helpful resource for everyone who is planning a baby shower.
Check out her baby shower invitation: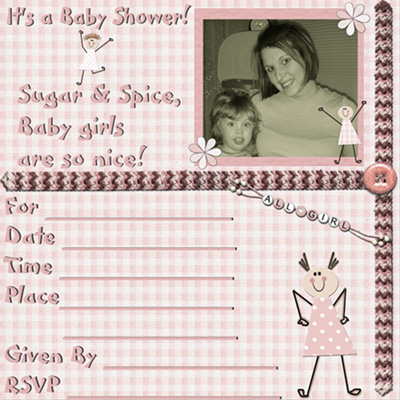 Description of how Ashlee made this invitation:
I wanted to do something different for my friend's baby shower. She is having her 2nd daughter so I used my digital scrapbooking software and created the perfect little girl invitation. To personalize it, I used a picture of her and her daughter on the invite. It turned out great!!
Click here to return to the Baby Shower Invitation Ideas Page ...
Our baby shower invitation ideas page is a forum for baby shower hostesses and/or mother's-to-be to share and show off their baby shower invitations. It is a great place to come and get baby shower invitation ideas to make your own invites!
If you have a baby shower invite that you would like to share,
submit it here ...