Free Animal Baby Shower Game
A colorful, fun and free animal baby shower game! Did you know that a mother elephant is pregnant for 624 days?! 9 months doesn't sound so bad after all! Test your guests' knowledge of animal gestation periods with this colorful & cute baby shower game below.
The cards below are free to print out. Just follow the printing instructions below. To play the game, just match each animal with the correct number of days that the animal is pregnant. Some gestation periods will surprise you and your guests!
The Answer Key is at the very bottom of this page. Enjoy the Game!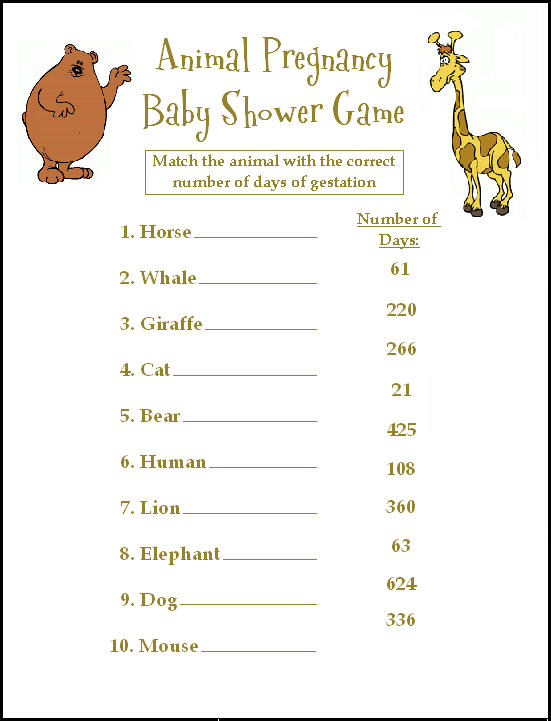 How to Print This Free Animal Pregnancy Baby Shower Game:
You have several options to print this animal gestation baby game. Whichever way you choose, I suggest that you print these game cards on a thicker cardstock for a quality, sturdy game card. The EASIEST way to print this game is to open this pdf Free Animal Baby Shower Game and print it from there.
You will need Adobe Reader (the latest version is recommended) installed on your computer in order to open and print this baby shower invitation. You can get Adobe Reader for free here (a new window will open so you can download without leaving this page).
If you don't want to use the .pdf version, follow these Printing Instructions:
Right-click on the image you want and select the "save picture as..." line. Then, you will be asked which directory to save it to. Just save it onto your desktop or in any folder you want. Then on your desktop, double click on the image icon. When the image opens up, set your printer to the desired paper size and print the image (in color or black/white).
Another printing option: If you have Microsoft Word, after you "save picture as..." explained above, open a blank document in Microsoft Word and go to the tab INSERT and then select PICTURE and then select FROM FILE. From there you just choose the directory from your computer where you saved the picture and click INSERT. And Voila! You can print it off as many times as you like.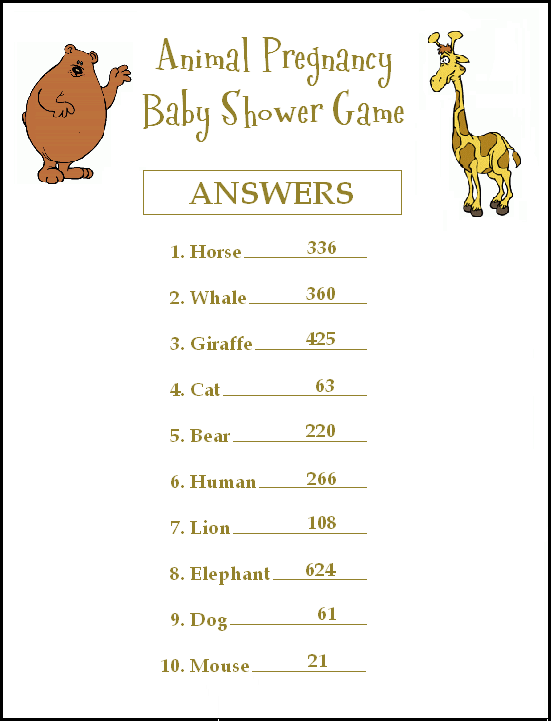 I hope this free animal baby shower game helps lessen the stress of planning your baby shower!
Best of Luck!!
Here are some more free printable baby shower games, including some more free animal baby shower games