zebra theme baby boy diaper cake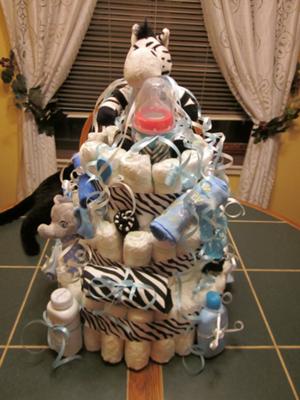 front view of cake
An anonymous reader submitted her loaded zebra-themed diaper for all of us to enjoy. Love our readers and their endless creativity and desire to pay it forward. Simply awesome!!! Thanks for sharing!

In their own words:
found a stuffed zebra, zebra print bottle(filled with blue and white jelly beans), zebra print onesie, zebra print socks (made into roses), and zebra ribbon..entire cake is done in blue, black and white. Added blue baby spoons, blue elephant rattle, blue bibs, blue bottle brush, blue wash cloths, blue teething ring and small bottle of baby powder and baby wash. Used 1/2 pack size 1 diapers and 2 packs size 2 diapers..the center of the cake is a bottle of "hot sex" booze, for the parents. added white and blue streamers.
Join in and write your own page! It's easy to do. How? Simply click here to return to Diaper Cake Invitation.