Winnie the Pooh (It's a Girl!)
by Jennifer
(Pittsburgh,PA)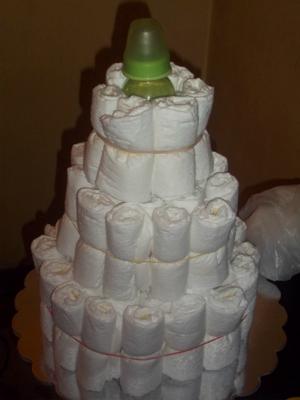 3 tiers of diapers (bottome has 3 rows, second tier has 2 rows, and top tier has 1 row)
Jennifer submitted this cute cake with a fantastic recipe! Take a look below and check out Jennifer's helpful ideas!


Jennifer's Diaper Cake Recipe
:


1 (12-14) inch cardboard Cake Platter
Pampers-Size 1 84 count (mother to be choice of diapers)
Clear Rubber bands, to roll each diaper up
Assorted Rubber Bands to hold diapers together
2-9oz. Bottles as the middle support (wrapped diapers around the bottle)
1 (6 ft. Pink Ribbon) and 2 (4 ft. mixture of blue, yellow and pink ribbon)
Pacifiers
Teething Rings
Travel size of Baby Powder, Baby Body wash, and Baby Head to Toe Wash
Rattle
Winnie the Pooh Plush Toy for the topper
(All items I bought from Walmart and was really inexpensive!)
I also have little baby booties to add on the day of the shower and artificial flowers too! Hopefully I'll be able to post those pictures!