Victoria Beckham Baby Shower - Truly a Posh Party!
What kind of 'Posh' baby shower did Victoria Beckham have for her upcoming baby girl?
Answer: An English Garden Tea Party!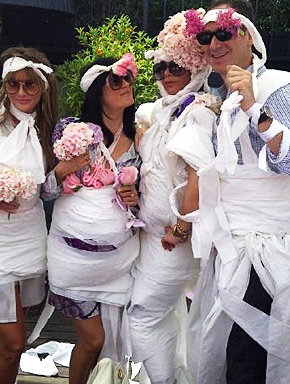 On May 8th, the Spice Girl was thrown a wonderful baby shower by her friends Eva Longoria and celebrity hair specialist Ken Paves. The baby shower was a pink-themed affair hosted at the private Butterfly Bar at the top of the West Hollywood Petit L'Ermitage hotel. Thirty guests showed up on Saturday, May 8th to celebrate Victoria's first baby girl. She has three boys and is seven months along. A source at the baby shower is quoted saying of Victoria, "All she wanted was anything pink. She's so excited to finally have a girl." Beckham arrived at her baby shower in a stylish V-neck purple dress and accessorized with a Proenza Schouler bag and Chanel sunglasses.
US Weekly magazine reported that the party was decked out in pink, with pink centerpieces with red roses, pink gerber daisies and pink hydrangeas for the table centerpieces. Pink chairs were floating in the rooftop swimming pool. And there was a pink "princess" marzipan cake to top it off!
Something "pink" was the only description on Victoria's wish list. With such a pink & girly baby shower, it's not too hard to tell that the 37-year old mother of 3 boys is excited for a girl. Their three boys are Brooklyn, 12, Romeo, 8, and Cruz, 6. Soccer-star husband, AccessHollywood.com reported David Beckham saying that they are "over the moon"excited after finding out that they are soon-to-be parents of a baby girl. David also said that, "Our three boys are happy and excited, and Victoria is doing well."
The party was attended by numerous celebrities, including Demi Moore, recent mother Rachel Zoe, Selma Blair, Tana Ramsay and Nicole Richie. The party guests enjoyed baby shower games such as dividing into teams to see which team could make the best dress out of toilet paper and seeing who could pick up water balloons the best with one's chin. There was tea and cake served at the classy, yet informal English garden tea party.People magazine reported that the baby shower gifts for singer/designer Beckham included cute books and clothes, a designer diaper bag by Timi and Leslie, a pink Hoppop Bath Tub, a bassinet, a pink Little Giraffe Luxe blanket, an adorable little pink bathrobe, a pink Quinny special edition stroller, a mamaRoo baby swing, and a 5-ft custom-made giraffe by Melissa and Doug - which all came from the upscale Los Angeles baby store 'Beginnings"
Victoria tweeted about how much she enjoyed her baby shower: "Such a lovely day!!!thank u so much @EvaLongoria and @KenPaves for being such wonderful friends. Baby showers are so much fun!!!!!!!x vb."
We wish the Beckham family all the best as they prepare for a new baby girl!
If you liked this Victoria Beckham Baby Shower page, you'll enjoy seeing other celebrity baby showers...