Ridiculously Girly
by Kay
(Seabrook, TX)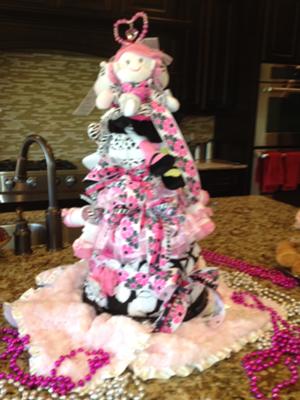 Front
Such an awesome cake! I love it when a mom-to-be's personality is reflected in a diaper cake! This diaper cake was made by a caring, creative friend for a special mom-to-be. Kay really outdid herself! Kay, thanks for sharing. It's awesome!


We'd love to post your diaper cake photos, submit them here!
Kay's Comments
:


This diaper cake is a little on the edgy side due to the personality of our dear friend who is also a little on the wild side. We wanted to express that bright feminine personality in the diaper cake and use it as the centerpiece for the shower.

I built a 3 layer diaper cake from newborn diapers. Each layer became a little smaller. I suggest that if you use the dresses to cover each layer, that you use tape or string to hold the diapers together before layering on the dress. I just put the bell of the dress around the layer and folded the top to a hidden position.

After that, I took decorative ribbon - 2 wide spools of the same design, then 3 narrow spools of ribbon with differing designs in the same color theme. Place the wide ribbon around the diaper layer/dress and staple together. Then tie on your gifts with the narrow ribbon. I made large bows to go over the areas where I stapled the ribbon around the dress/diaper layer. Then I made multi-string bows with the small ribbon. It's worth it to spend a little extra on the ribbon!

We used the blanket to decorate the bottom of the cake. The most valuable idea is to start with a design/color theme. Everything else comes together nicely. This is my first cake and an absolute joy to make.

Warmest,
Kay
Join in and write your own page! It's easy to do. How? Simply click here to return to Diaper Cake Invitation.