Little Red Riding Hood Baby Shower Food Ideas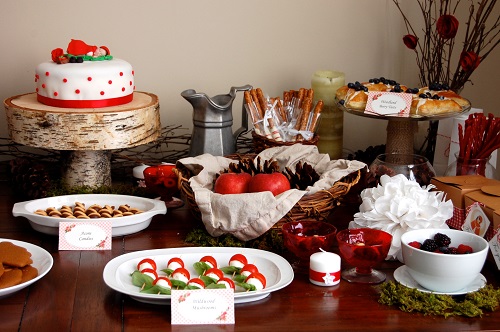 little red riding hood baby shower food ideas
Planning the food and desserts for a baby shower is one of the most fun parts of the party-planning process, in my opinion. Thinking up cute names that complement the theme and designing the dessert table might take a lot of work, but it is work that is well rewarded when it comes time for the shower. A Little Red Riding Hood baby shower provided me with a great starting point for planning the food, between the forest and Grandmother's house. The type of food that you serve will depend on the time of day, the budget, personal cooking preferences, and how formal the baby shower is going to be.
If you are already making a cake, it's nice to serve some other snacks that don't require any baking. An easy crowd-pleasing idea for your next baby shower is white chocolate-covered Oreos. There are so many different colors to choose from when decorating, and the Oreo provides a great base – I mean, how can you go wrong adding chocolate to cream-filled chocolate cookies?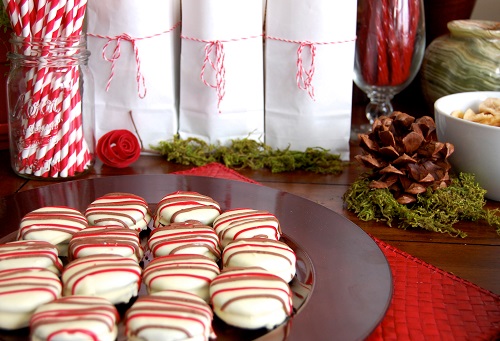 Chocolate-covered Oreos are very simple to make and look fantastic added to any table. I chose white chocolate chips, but you can also use candy melts or almond bark. If you do use white chocolate chips, add about a tablespoon of vegetable shortening in order to thin out the chocolate. Before starting, place a wire cooling rack over a piece of parchment paper or wax paper. Then heat the chocolate in a bowl in the microwave for about two minutes, until smooth.

Dunk the Oreos in the chocolate and scoop out with a fork, letting the excess run off before placing it on the wire tray. By placing them on the wire rack, any more excess chocolate will drip off onto the parchment paper for easy cleanup. Then, drizzle the Oreos with frosting or melted chocolate, or add sprinkles while the chocolate is still wet. For the drizzle, I bought red frosting ready to go from the grocery store so that it would be the right color of red, and used chocolate frosting for the brown stripes. A quick and money-saving tip is the use any standard Ziploc bag to frost: simply spoon the amount of frosting that you need into the bag, squeeze it into a corner of that bag, and snip just the tip of the corner. And voila you have a homemade piping bag.
Keeping with the Red Riding Hood woodsy theme, I also served some 'Woodland Berry Tarts,' which were a big hit. They were made out of frozen puff pastry, whipped cream and lemon, and topped with berries.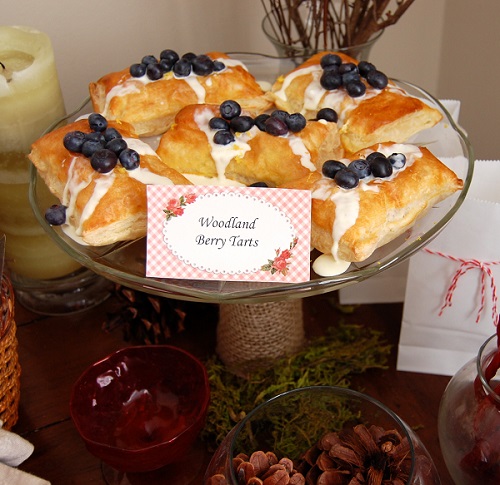 I used my mother's tried-and-true recipe to make some gingerbread cookies, or 'Grandma's cookies,' in the shape of leaves, using a leaf-shaped cookie cutter. Cookie cutters can be used to fit with almost any theme. The cookies come out plain, but you can alter them with frosting to be as creative or as simple as you want. I chose not to frost mine, but I know from experience that frosting gingerbread cookies can be a fun time for both kids and adults. Not only were the gingerbread cookies soft and delicious, they also matched the color scheme! Speaking of color scheme, food can match it as much as decorations can. For example, Twizzlers or other candy in vases makes a simple yet great match for a Red Riding Hood table.

Acorn candies also matched with the theme and the color scheme. These are very simple to make and turn out very cute. Using chocolate frosting, 'glue' together a Hershey's Kiss and a mini Nilla wafer. Add a dot of frosting on top of the wafer for added effect. At first glance you wonder how it's done but it's just simple assembly, again no baking required. It's so simple that I can't believe I never thought of it before!
For some healthier alternatives, I used a large basket for delicious-looking red apples and placed some 'wild berries' and dried banana chips on the table for snacking. For a savory treat I really liked the idea of 'forest mushrooms,' a play on caprese bites.

For the caprese bites, all you have to do is put together half a cherry tomato, a mozzarella ball, and a basil leaf on a toothpick. It was easy finger food that broke up all the sweetness on the table but also fit with the theme. Again the ingredients are basic, but the assembly transforms it into something more.
Some other ideas that were not used here but that I considered include chocolate-dipped strawberries (I already had quite a few chocolate-dipped things) or marshmallows dipped in chocolate with sprinkles on top, a twist on the classic s'mores. If you are serving a lunch, you may consider 'Woodman's sandwiches' or forest veggies and dip. More sweet treats include the always-popular cupcakes, which are easily customizable, or mini fudge bites. Transform the basic into something fun, for example regular fruit punch can become 'Woodland Berry Juice.'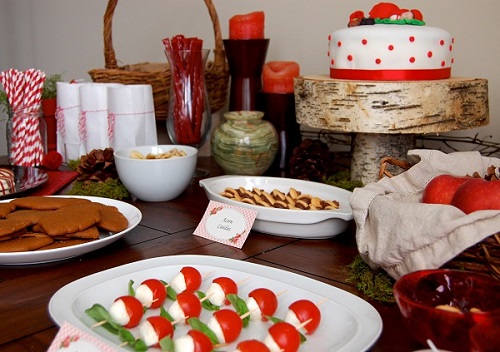 For your next baby shower or gathering, don't be afraid to think outside of the box and make some 'acorns' and 'leaves' for your guests. Everyday ingredients combined in the right way can produce a result that is anything but.