Rachel Zoe's Baby Shower
How does Rachel Zoe (pronounced ZOH), one of Hollywood's most sought after stylists, celebrate her upcoming baby?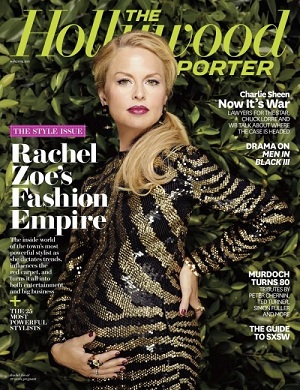 Here's how:
 1. With her husband, Rodger Berman
 2. With her friends and family
 3. With a dress by The Row
 4. With an Oscar de la Renta necklace

What more do you need? :)
Rachel Zoe was thrown a baby shower last Saturday (February 26th) by Juicy Couture founder and close friend, Pamela Skaist-Levy, and by her sister, Pamela Glassman. The stylist has been married to Rodger Berman for thirteen years and the happy couple is expecting a baby in March 2011. It will be their first child!
Rachel revealed the gender of her baby during an interview with WWD, "It all depends on his arrival…It's a little boy."The baby shower guest list included friends and family of Zoe and Bergman, including stars like Demi Moore, Kate Hudson and Nicole Richie. The baby shower guests were given the option of instead of bringing gifts to Rachel's baby shower, to donate to the Los Angeles-based charity Baby2Baby, which is a charitable organization that donates infant items to families in need. The boy baby shower was a wonderful occasion which helped Rachel, now 39 years old, prepare for her impending delivery and take her mind off of the upcoming Oscars, for which she has the spotlight job of dressing one of the co-hosts of the big event, Anne Hathaway.
Ever since Rachel announced her pregnancy in November on Twitter, she has tried to balance her career with her pregnancy, trying to focus as much as she can on her upcoming motherhood. Rachel said in her interview with WWD, "I've been asked to slow down. But to be totally honest, it's kind of next to impossible when you're planning your show and launching your collection, and in the middle of award season.
"I'm also Jewish. So I'm a little superstitious. I've been sent a lot of gifts and things and my team just hides them."
She decided to skip the New York Fashion Week this year and only did her Zoe Report Q&A spot with the Fashion Week designers instead. She has one more career milestone to get through before her delivery day, and that is to dress Anne Hathaway, who was on the best dressed list at the Golden Globes with an amazing Armani dress, for a night at the Oscar's. Hathaway will need multiple costume changes for the big event and will spend a healthy amount of time on the red carpet that night, as one of the Oscar's co-hosts.
Zoe's talent with fashion and style has been put to good use with her own pregnancy, as noticed at a the opening of the Tom Ford boutique in Beverly Hills just a few week ago. Almost nine months into her pregnancy, Rachel hid her baby bump quite fashionably with a gold and black sequin mini dress, which made her look 3 months along, if that! Rachel said at the event, "I mean, everything he [Tom Ford] does is just flawless. Too bad I can't wear any of it. My water could totally break right here." She obviously made it through the event without a problem, and we hope she continues on through the Oscars and into the hospital before breaking her water! We are very excited for Rachel, Rodger and their upcoming little boy - he will definitely be one well-dressed little tyke!
Head over here to read about how other celebrities celebrated their baby showers, and you can get an idea or two for your own!