Precious Moment Diaper Cake
by Gloria Orta
(Brookfield, IL)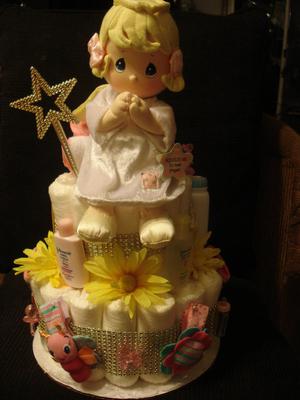 Oh my word!! I have to say I have a special place in my heart for Precious Moments. And Gloria absolutely outdid herself with this cute precious moments diaper cake. I love the colors, size, and of course the adorable cake topper. So sweet!! Thanks for sharing Gloria!

Gloria's comments:
I am a Precious Moment! Pray and Playful, handmade, three tiers Diaper Cake will be the best gift at the baby shower! Big Praying Precious Moment Sunflower Diaper Cake is a great baby shower gift and a gorgeous centerpiece for a Precious Moment themed baby shower. Can also be used to welcome your special girl in the hospital room. This cake is made of 55-70 Pampers Swaddlers diapers size 1 (7-14 lbs.), one Precious Moment plush toy, one pacifier, three washcloths; one JOHNSON'S Baby Powder Pure Cornstarch (Gently absorbs excess wetness to keep skin dry and soft) 1 1/2 oz; one JOHNSON'S Baby Shampoo (This mild, tearless formula baby shampoo is as gentle to the eyes as pure water) 1.5 fl oz; one DESITIN Creamy (A creamy formula with Aloe & Vitamin E to prevent and treat diaper rash) 1/8 oz; one JOHNSON'S Baby Lotion (With that unmistakable baby fresh scent) 1 fl oz.; one JOHNSON'S HEAD-TO-TOE Baby Wash (Bathe your baby in pure gentleness) 1 fl oz; embellishments; ribbons and bows.

The diapers are held together by elegant ribbons (no glue on diapers). Ribbons are hand-stitched with white embroidery floss on the back of the cake, allowing for a clean, handmade look. Decorated with Sunflower, ribbons and bows. Gloria's Custom Made Baby Diaper Cakes.
Join in and write your own page! It's easy to do. How? Simply click here to return to Diaper Cake Invitation.