Penelope Cruz Baby Shower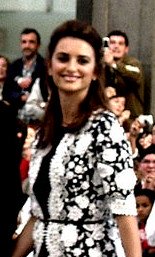 If you were from Spain, were a famous and beautiful actress, and married a celebrity from Spain, what would your baby shower be like?
First of all, you would host your baby shower at some swanky restaurant or mansion, and then you would be sure to invite some A-list celebrities, like Leonardo DiCaprio and Bar Rafaeli. And THEN you would keep it very private so the press and general public didn't know much about the baby shower.
And that is exactly how how the gorgeous Spanish actress, Penelope Cruz, celebrated her baby shower for her first child! And, although we don't know many actual details about the baby shower, we do know that the Pirates of the Caribbean actress invited her close female friends to her Hollywood estate on Saturday, January 15th 2011. Penelope and her husband, Javier Bardem, hosted the shower just 9 days before giving birth to a healthy baby boy. So exciting for the handsome Spanish couple! Immediately after the baby shower, Cruz and Bardem left for Palm Springs, California to prepare for the impending arrival of their little boy.
Our favorite detail of the baby shower is that Penelope mentioned that she would love to have more children with her husband, potentially even adopting...so sweet! :-)
If you enjoyed reading about Penelope Cruz Baby Shower, then check out our other celebrity baby shower pages right here!
* photo published with permission
from Jose Luis Martinez

_____________________________________________

** Baby Update: Penelope Cruz and husband Javier Bardem welcomed an adorable baby boy on January 24th and everything went really well! We want to wish them congratulations. They named him Leo…Leo Encinas Cruz. How cute!

Penelope is reportedly a wonderful mom. She is quoted as saying, "I want my son -- and my kids if I have more -- to grow up in a way that is as anonymous as possible. The fact that his father and I have chosen to do the work that we do doesn't give anybody the right to invade our privacy." Furthermore, Salma Hayek (Cruz family friend) was quoted by Vogue as saying, "Penelope is a motherly creature, a warrior by nature. I told her that little boy is the luckiest boy in the world." :-)

_____________________________________________

** Baby Update: Reportedly Penelope Cruz and little Leo at 6 months were seen in Costa Brava, Spain and she was vacationing with Eva Longoria, who is dating Penelope's brother, Eduardo Cruz.

_____________________________________________

penelope cruz baby shower