Nuetral Diaper Cake
by Jessica Velasquez
(Fayetteville, NC)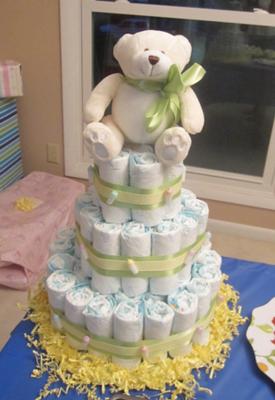 View 1
The colors on this Neutral diaper cake are so soft & sweet! This is a great example of making a diaper cake for a gender neutral baby shower. I love it! Read Jessica's details below and gain some inspiration to make your own diaper cake. Jessica, like our other wonderful readers, has shared her ideas, photos and tips with us and has "paid it forward" for others to enjoy. Jessica, we are so glad you did! Thanks for sharing your pretty diaper cake!!

Jessica's Comments:
This was my first one ever! I used 60 individually rolled diapers and 4 onesies to make this three tiered cake. When i arrived at this Shower, most people on first reaction thought it was a real cake until they looked at it closely and realized it was diapers. I can't wait for another baby shower to make another one.
Join in and write your own page! It's easy to do. How? Simply click here to return to Diaper Cake Invitation.