Naomi Watts Baby Shower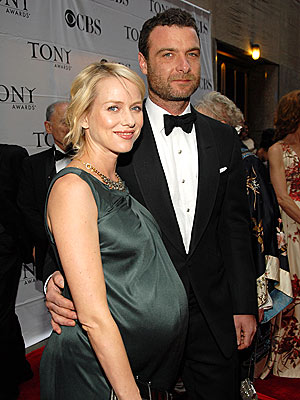 Actress Naomi Watts is pregnant with her first child and is due in August. The expectant father is Liev Schreiber. In anticipation of their new son or daughter (they are keeping that little detail quite discrete), a darling garden tea party baby shower was thrown for both Naomi and Liev on July 21, 2007, at their Brentwood home.
The baby shower was actually going to be held on a later date. Apparently, the King Kong actress and her friend had tickets to go to watch David Beckham debut with the Galaxy soccer team but decided to have a baby shower instead. (1)
The event consisted of a small group of about 20 friends. Among the baby shower guests who attended were Kate Hudson, Carla Gugino, and fellow Australian actress Isla Fisher. According to US magazine, Naomi and her guests "sat around the pool barefoot and made necklaces...."(2) Naomi wore a pretty light pink summer dress and a white, unbuttoned blouse.
At the baby shower, the excited father-to-be, Liev, expressed his admiration for Naomi when he commented, "She's great. She hasn't had any strange cravings. In fact, I've never seen anyone handle a pregnancy so well. She's amazing." (1)
Update: Thursday, July 26 Naomi Watts delivered a son at 3:59 p.m. in Los Angeles, weighing 8 lbs., 4 oz, and 22.5 inches long. The proud parents named him Alexander Peter Schreiber.
(1) www.exposay.com
(2) www.Usmagazine.com