Monkey motorcycle!
by Ivette S
(Los Angeles)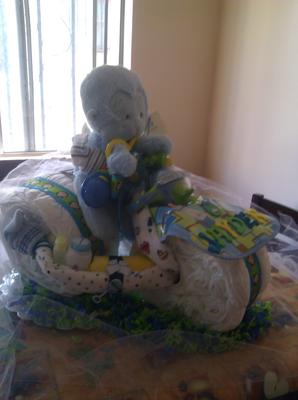 Ivette is continuing to pay if forward by sharing her creative diaper cake idea! I am so impressed by anyone who ventures to create their own work of art with a diaper cake. Check out the front, side, and aft views of the cake in the attached photos.

Ivette describes this diaper cake as being "Based it on a Monkey Nursery theme." I am sure it was a delightful baby shower, and topped off with an adorable baby shower Monkey Motorcycle diaper cake. Well done!!

If you have some diaper cake ideas of your own, feel free to submit them at the bottom link!
Join in and write your own page! It's easy to do. How? Simply click here to return to Diaper Cake Invitation.