Mary Poppins Baby Shower
Mary Poppins Baby Shower Ideas

"In every job that must be done, there is an element of fun.
You find the fun, and – SNAP – the job's a game!"
The classic movie Mary Poppins provides a whimsical versatile theme for a baby shower. It makes the job of planning a baby shower easy and fun. There are many ideas to choose from for different decorations, food, and games.
This sweet, upbeat movie provides plenty of phrases that you can use to set the scene for your shower. For example, "It's a Jolly Holiday for [Mom-to-Be]" makes a great invite. "Let's go fly a kite," is another.
Mary Poppins Baby Shower Decorations
Kites make easy and bright decorations for the room or table. Here I made miniature kites as decorations for the cupcakes. You could also use larger paper kites as a backdrop for a dessert table, in any color you wish. Another backdrop idea is umbrellas. One of Mary Poppins' main props was her magical black umbrella. You can either decorate with real umbrellas or shape umbrella silhouettes out of construction paper. I decided to base my color scheme off of Mary's usual attire: red, white, and black, with bright blue accents. We have some great invitations here and here that would be "practically perfect in every way" for the Mary Poppins baby shower theme.
To decorate, vases with bright flowers always dress up a table. For other ideas, you could choose to focus your decorations based on specific scenes throughout the movie. For example, the carousel theme would introduce vibrant colors and fun carousel animals. The dancing penguins are also entertaining characters, which match with a black & white color scheme. Penguins could show up on everything from the table decorations, to the printables, to the games- pin the bowtie on the penguin!
Mary Poppins Baby Shower Games
One of my favorite parts of any baby shower is the games. If you are playing the movie soundtrack in the background (a great way to keep the mood lively), the game of musical chairs is easy to set up. Another idea is to have everyone guess the mom-to-be's tummy size, and using "Mary's tape measure" whoever is closest, wins a prize!
Mary Poppins Baby Shower Food
If it is a small Mary Poppins baby shower, it might be fun to host a tea party, since in the movie there is a tea party with everyone floating in the air! You could serve cucumber sandwiches, with guests dressed in Victorian-style hats.
If there are a lot of kids, or even adults with a sweet tooth, a great and easy idea is to serve miniature caramel apples, since the children in the movie have caramel apples during the "Supercalifragilisticexpialidocious" song.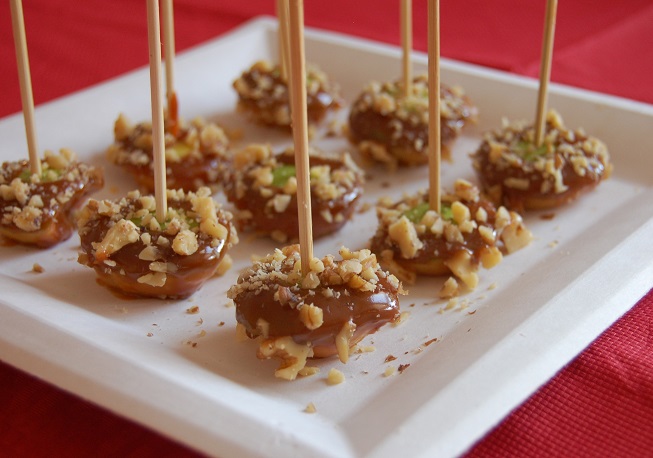 To make the caramel apples, first clean the apples and line a baking sheet with wax paper. Use a melon baller to cut out mini pieces. One apple yielded about 9 candy apple pieces. Put a toothpick or half of a wooden skewer in each piece. Next, melt the caramel in a glass bowl in the microwave.  You may need to reheat the caramel periodically if it starts to harden. Once the caramel is melted, dip in the apple piece and twirl until it is completely covered. Roll the piece in chopped nuts and set on the wax paper to harden. Instead of chopped nuts you could also substitute sprinkles, mini chocolate chips, or chopped Oreos. Refrigerate until ready to serve.
Another cute idea for themed food is "spoonfuls of sugar." Almost everyone knows the famous line that "just a spoonful of sugar helps the medicine go down."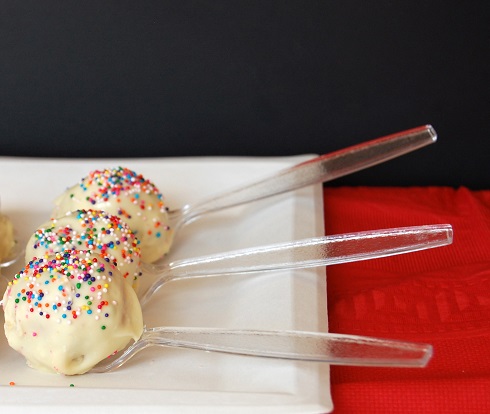 For these I used cake pops served on a spoon. You could also have bowls of candy with spoons on the side as an alternative, leaving the guests to choose their own kind of sugary spoonfuls. Almost any kind of candy would work well with this idea.
Other ideas for food to serve include scones, tarts, bite-size sandwiches, fruit salad, or kite-shaped cookies. And don't forget raspberry ice cake! (If you don't know of any penguin waiters to serve it, that is probably okay.)
Mary Poppins Baby Shower Favors
If you choose to hand out favors, one of my favorite ideas for any baby shower is a customized magnet. These are usually inexpensive and a great way to remember the day. For the Mary Poppins baby shower theme, you could make magnets out of the many sayings, such as "supercalifragilisticexpialidocious," "a spoonful of sugar helps the medicine go down," or "practically perfect in every way." A fun favor for kids would be different colors of sidewalk chalk wrapped in ribbon, inspired by Bert's adventure into the chalk drawing.
Mary Poppins and gang can make a fun baby shower for everyone to enjoy! "No wonder that it's Mary that we love!"
If you liked this Mary Poppins baby shower theme, then check out our other baby shower themes...
© www.plan-the-perfect-baby-shower.com All Rights Reserved