How to Make Your Own Baby Shower Favors
Rice Krispie Treat Make Your Own Baby Shower Favors :
This is a cute, easy and inexpensive baby shower favor idea. And it tastes good too! Over a year ago, I made these Rice Krispie favors for a baby shower and the husband of one of the guests to this day still gets the craving for these.
Materials Needed to make your own baby shower favor: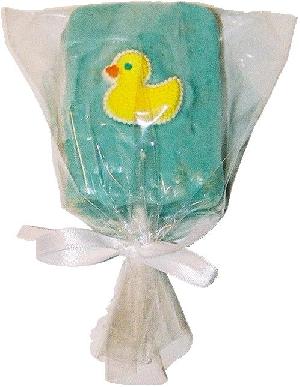 • small, pre-packaged Rice Krispie treats (approx. 2 x 2 ½ in.)
• bag(s) of white chocolate candy-coating discs
• pkg(s). of white lollipop sticks (4 in.)
• pkg(s). of medium-sized, clear treat bags (4 x 6 in.)
• white ribbon (1/4 in. width)
• yellow duck cake decorations (or any other cake decoration that fits a baby theme)
• wax paper
• double boiler
• blue (boy) or red (girl) food coloring

Instructions:
Melt candy discs in double boiler; unwrap Rice Krispie treats and stick a lollipop stick into the middle of one of the treat's shorter sides (treat looks like a lollipop). Add desired amount of food coloring to melted candy discs until desired blue or pink hue. Using a spatula, hold treat over boiler and quickly frost all sides of the treat (if you take too long, the treat may get soft and come off of the stick). Place the coated treat on wax paper, gently press a duck decoration in the middle, and let treat cool and set. When completely set, put treats in treat bags and tie bags closed with ribbon at the base of the treat around the lollipop stick.

One of the best ways to personalize and tailor a baby shower to the expectant mother is to make your own baby shower favors. Instead of the ducks, as used above, you could use a little embellishments that have meaning for the expectant mom. For example, little stars if she is having a Star nursery, little puppy or kitten charms if she likes dogs or cats, etc.
_______________________________________
Here are more make your own baby shower favors & ideas ...
Good luck on Making Your Own Baby Shower Favors!