Julia Roberts' Twins Baby Shower
Celebrity Baby Shower Ideas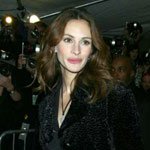 Few Hollywood babies have been more anticipated than actress Julia Roberts' twins. Although the twins were due in January 2005, Julia experienced early contractions 3 months before the due date.
On October 23, 2004, she was preparing for her twins baby shower in Los Angeles which was to be held the next day when the contractions hit. According to People magazine, "Roberts, [then] 36, was accompanied by her husband Danny Moder to an undisclosed hospital and was hooked up to a fetal monitor." The contractions eventually stopped and doctors advised her to go on bedrest for the remainder of her pregnancy. (1)
And, just like show biz, the Baby Shower must go on! And go on it did. Julia Roberts was feeling better on Sunday (Oct. 24), so her friends and family showed up at the hospital to have the baby shower there. (1)
Not much more is known about the twins baby shower itself. It is reported that the superstar actress recieved a diaper cake but it is unclear whether that was at the baby shower or later.
Julia Roberts is the happy, glowing mother of Phinneaus Walter and Hazel Patricia. Of her motherhood, People magazine reports that, "Babies make you beautiful and not just beautiful, but the most beautiful person on the planet: 'Now that she has the babies, she has reached the peak of beauty,' says Julia Roberts's friend and makeup artist Genevieve. 'She is satisfied and content. All of that shows. It shows throught the makeup, through the pictures. Being a mom has changed her whole life.'" (2)

References:
(1) www.hollywood.com
(2) http://bakerswife.typepad.com