Jessica Alba Baby Shower
Get some baby shower ideas by reading about a Jessica Alba Baby Shower.
Actress Jessica Alba had two baby showers to celebrate her upcoming baby girl. She had a baby shower shown on TV, hosted by Tyra Banks. And she had a more private baby shower with friends and family.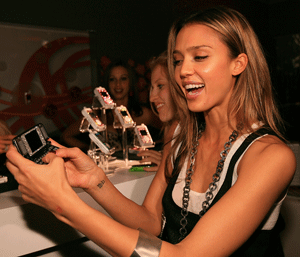 On April 6th, 2008, Jessica was thrown her 2nd baby shower with 35 of her friends and family. They gathered at the Ever After Teahouse in Studio City. The early springtime event was outdoors under large white umbrellas. The decorations included purple and white balloons and beautiful white flowers. Alba announced to her guests, which included Kim Kardashian, Rashida Jones, and Jamie King, that she was indeed expecting a baby girl.(1),(3),(4)
Paparazzi surrounded the entryway to the event as guests arrived at the Jessica Alba baby shower. The event began at 1:30 on Sunday afternoon. Alba entered via a side entrance and wore Isabella Oliver's Black Audrey dress with her hair down. (2)
Gifts were opened right off the bat at the start of the shower. The gifts included cradles, baby clothes, rattles, baby books including works by Dr. Suess, and gifts from Kim Kardashian's Smooch Baby Boutique. (1)
The menu sounds delicious, as reported by E!, "white wine, lemonade, iced tea and coffee and an assortment of ice cream drinks; skewers of tiger shrimp and soft-pulled chicken; and for dessert, white and dark chocolate-dipped strawberries, mini doughnut varietals, mini custard tarts and mini eclairs." (1)
Also, Kardashian mentioned that there were "great cupcakes." (4)
The Jessica Alba Baby Shower ended after about an hour and a half and the expectant father, Cash Warren, arrived to make a brief appearance and to present Jessica with a few gifts of his own. (2)
Update: Jessica Alba delivered a baby girl on June 7, 2008, and named her little girl Honor Marie.
If you liked these Jessica Alba Baby Shower ideas, then click here for more celebrity baby shower ideas...
(1) www.eonline.com
(2) www.thesun.co.uk
(3) www.starmagazine.com
(4) www.contactmusic.com