FREE Pregnant Silhouette Invitation For Baby Shower
You will not find a more adorable, personalized baby shower pregnant invitation online than this stylish silhouette invite! We are excited to bring you this unique invitation, designed exclusively for our website. It is free, it is printable, you can personalize it with your own details. And it is yours for your PERSONAL use!
HOW TO PRINT THIS INVITATION:
1. All you need to do to get this free invitation is sign up for our free newsletter! Just click here to sign up for our FREE email newsletter.
2. You will be prompted to enter your email address.

3. You will then receive an email with the password* for the FREE invitation page (see note below).

4. Click here (or on the image below) and enter the password at the prompt.

5. You will be taken right to the invitation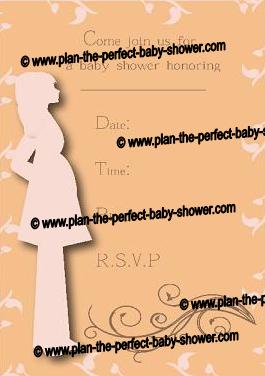 6. Once you are on the invitation page, you can click on any of the text on the invitation with your mouse and delete the old text and enter your own.

7. Print our as many invitations as you want. You may want to save the file to your desktop or a thumbdrive and take it to Staples or Kinkos to have them printed professionally (because it uses a LOT of color ink).

8. And you are all ready to send them out in the mail! It is simple, easy and quick.
I suggest that you print your invitations on a thicker cardstock for a higher quality invitation.
You will need Adobe Reader (the latest version is recommended) installed on your computer in order to open and print this baby shower invitation. You can get Adobe Reader for free here (a new window will open so you can download without leaving this page).
*Note: We have started to ask our readers for their email address to grant access to our free invitations because many of our free baby shower invitations have been copied, plagiarized and stolen by other websites. This is very unfortunate and we thought about not posting any additional free invitations on our site, but we didn't want to hurt our wonderful readers because of the poor actions of a few. So we decided to make our free invitations accessible by password. This way we can keep on creating new invitations and posting them for your very own use!!
We hope you enjoy this cute, stylish invitation! By entering your email, we will sign you up for our adorable newsletter which you can opt out of at any time by simply sending us an email.
Here is a precious pregnant silhouette baby shower invitation for you to print out, add in your own words by deleting any of the text below and fill in with your personal babyshower details and print as many as you need for your baby shower! This design requires a lot of color ink, so it would be best to save this file to a thumb drive and take it toa Kinkos or Staples to have it printed professionally and inexpensively! Cut them out and you are ready to mail them out. Hope you enjoy them!!