Hot pink and zebra diaper cake
by Kayla Richardson
(Illinois, United States)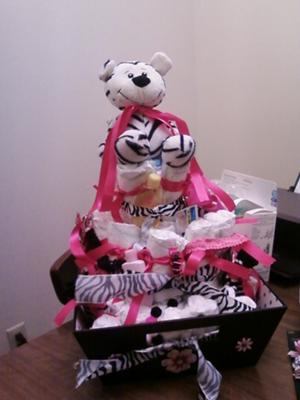 Final product
Hot pink and a zebra pattern is a popular color combo for baby showers, diaper cakes and baby clothes...as you can see in Kayla's cute diaper cake above!

Our readers and their generosity are the reason that this website has been such a help to millions of women (and men) planning baby showers and making diaper cakes. We are so lucky to feature Kayla's delightful hot pink and zebra diaper cake and share it with all of you! Thanks for sharing your wonderful cake, Kayla!


Share YOUR diaper cake ideas right here
Kayla's Comments
:

I made this diaper cake for my sister, who is having a girl in 3 weeks, and it was so much fun to make! First, I got a storage bin from walmart...$8. I glued a piece of zebra print felt in the bottom and left it alone to dry. Then I decorated the box...I've included to pictures of one of the sides. I then left it to dry overnight. When I started again, I put a bottle in the middle of the box...the bottle just so happened to be pink and sebra print to :) Then I started my rings. I started rolling diapers with rubber bands and made my first ring and secured it with a big rubber band. Then I did the second, and finally the third ring. I then placed fours rolled up diapers in the corners of the box. Then, I tied a peice of 1/2 zebra print ribbon around the entire tier and brought the two ends outside the hole and made a knot. Then, I started the second tier.

The second tier went much the same way the first did, except I only did two rings and the second ring I tied each diaper with a 1/4 in piece of hot pink ribbon. Then I took a piece of 1/2 zebra print ribbon and tied it around the whole thing, making a knot in the front.

The third tier, I took a travel size bottle of baby powder and put 4 rolled up diapers(tied with 1/4 pieces of hot pink ribbon) around it and secured it with a big rubber band. Then I took a piece of 1/4 in zebra print ribbon and tied it across the rubber band, so it wasn't showing. I did this all on the table and then carefully placed it on top of the 2nd tier. Then came the fun part...decorating!

First, I added some small baby bath products and zebra print socks. I tied a piece of hot pink ribbon around the socks. Then I added MANY bows and hair accesories. I also got some little pink, black, white, and zebra pring poms from Hobby Lobby and scattered them throughout the tiers. Then I placed a stuffed zebra on the top. This is where I ran into a problem, since the zebra did not wanna stay up there. First I tried tying a long piece of hot pink ribbon around the neck and making a bow, and tying the ends to the sides of the box. This didnt work, but it looked so cute that I kept it on anyways. Then I decided to tape the legs to the tops of the top tier of diapers with transparent tape...this worked, as long as I didn't move it around too much. Then I was completely finished.

The diaper cake was a big hit! Everybody liked it, especially my sister. I hosted the shower, and as soon as all the pictures are developed, I will add them :)
Join in and write your own page! It's easy to do. How? Simply click here to return to Diaper Cake Invitation.