Gwyneth Paltrow's Baby Shower Party
Celebrity Baby Shower Ideas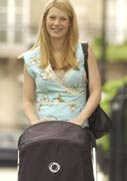 We all know that movie beauty Gwyneth Paltrow gave birth in 2004 to a baby girl: Apple Martin. She and her husband, Chris Martin, are notoriously secret about their private life. So little is known about the baby shower she had before Apple was born. The few details that we do know:
The actress threw an upscale party for 25 of her closest friends at the swanky New York restaurant Il Buco in February 2004. They toasted in celebration of the new baby, and "Gwyneth - who spent over $5400 on a lavish spread for her guests - was then presented with a lovely cake to mark the occasion, which was finished with blue icing." (1) They must have thought it was a boy!
You never can tell!
The only baby shower gift that we know about is a baby gift basket - but it is unknown who gave it to her.
There may be another Baby Shower for Gwyneth Paltrow because she is expecting her 2nd baby sometime in 2006!
References:
(1) Platinum-Celebs.com