Gentle Sounds Giraffe Cake
by Tambra Ellason
(Austin, Texas)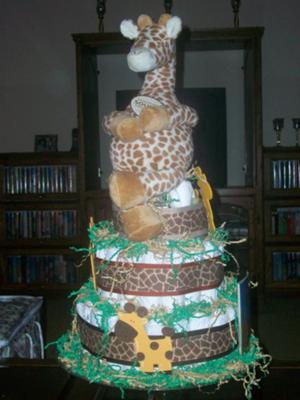 Gentle Giraffe Cake
We love these different diaper cakes that Tambra created for an amazing Jungle theme baby shower! How fun to do individual diaper cakes for the different animals, including a giraffe, leopard, Tiger and Zebra! So adorable!

Tambra not only submitted her various diaper cakes, but she also submitted photos of the entire baby shower!! Check them out right here... Her ideas are amazing! And even more amazing than that is Tambra's wonderful willingness to share her ideas with the rest of us! She has gone above and beyond in sharing her creativity and tips, and counted among our incredible readers who have 'paid it forward.' Thanks so much Tambra, you are truly an inspiration! We are so pleased to pass your ideas along to all of our readers!


Please share any ideas or photos of diaper cakes, crafts or decorations for your baby shower! You can 'Pay it Forward' and inspire thousands!
Check out Tambra's helpful hints
:

This cake was built around a bottle of champagne for the core. The top layer includes travel-size Johnson & Johnson's Baby Powder, Lotion, Shampoo, and Wash as well as a baby thermometer, brush & comb set and a travel baby spoons set w/case.

The Large Giraffe is the Gentle Sounds Giraffe that plays 5 soothing sounds including a mother's heartbeat heard from the womb.

The shower theme was safari animals with an emphasis on giraffes.

To flank the three-tier giraffe cake I made two one-tier cakes and decorated them in Leopard and Tiger.

For the dessert table between 2 cupcake towers I made a zebra diaper cake and put it on a small display plate.
Join in and write your own page! It's easy to do. How? Simply click here to return to Diaper Cake Invitation.