Gender Neutral Duck Diaper Cake
by Renee
(Pensacola)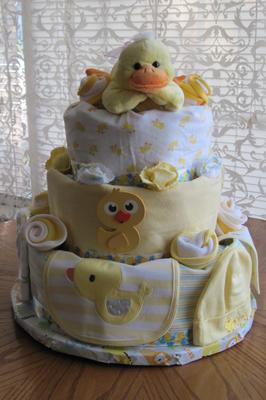 Renee, what a timeless, classy diaper cake! Truly a precious gift for a new mom. Well done! And your write-up is super helpful. Thanks a million for sharing with all of us! Love it! We have the best readers on the internet!

Renee's comments:
How many diapers did you use in your cake?
I used 90 size 1 diapers.

What were the ingredients?
Diapers, receiving blankets, bibs, hats, duck stuffed animal, duck lovey, wash cloths. I used double sided fabric tape to secure some items. It pulls off and doesn't leave any residue.

How did you make it?
I covered a cardboard cake round with duck themed wrapping paper. I always hot glue a plastic cyclinder of bath toys to the cake round and build the cake around it. Adds stability and a nice surprise. I rolled the diapers, securing with rubber bands. I start each tier by putting about six rolled diapers around the plastic cylinder and stretching a large rubber band around them. I then continue to add rolled diapers. I add a ribbon around the bottom of each tier and then I fold a receiving blanket length wise and secure it around the tier to hide the diapers.

Anything else you would like to share with us about your diaper cake or the occasion? On this cake I think the cutest detail was on the back. My husband suggested putting the duck lovey in a sleeper and putting on the cake to hide where the blankets are secured.

Join in and write your own page! It's easy to do. How? Simply click here to return to Diaper Cake Invitation.