first time diaper cake baby girl
by veronica
(dayton, tn)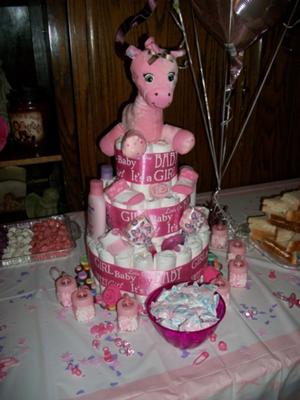 baby girl cake
Awesome cake! And it's Veronica's first one! Her diaper cake adornments (ribbon, confetti, and decorations) are tastefully done and the adorable pink giraffe is perfect for a baby girl! Her cake is definitely the focal point of the baby shower table. Veronica is one of our wonderful readers and has paid it forward with her darling diaper cake ideas. We love our readers! Veronica, thanks for your lovely cake! We hope all our readers enjoy it!


Submit your diaper cake pictures and ideas right here!
Veronica's Comments
:
For my first try at making a diaper cake I started with a silver cake board, made the bottom layer, and hot glued pastel buttons around the bottom. The end result turned out better than I could have imagined and the mom to be Loved it. So did eveyone else who attended the shower.
I used baby sock roses and washcloth lollipops to help decorate it. I also made a smaller 2 tier cake that I used footprint stickers on the cake plate and did in more of a purple theme where the big one was mainly pink.