A Few Details About Britney Spears Celebrity Baby Shower
Celebrity Baby Shower Ideas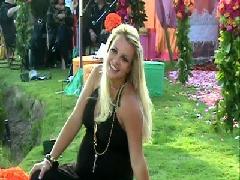 The Princess of Pop, Britney Spears, hosted an elaborate and emotional baby shower at her Malibu home in August of 2005. Her silk baby shower invitations encouraged the guests to "Come barefoot and beautiful" to the Moroccan themed baby shower.(1)
The decidedly upscale event was held just weeks before Britney Spears gave birth to her first child. She wore a black dress for the baby shower, which complemented her 8 month pregnant midsection.(1)
19 of Britney's closest friends and family "were welcomed into a bamboo tent set up in front of her Malibu home, where they walked barefoot through thousands of rose petals. 'I wanted it to be really intimate with just my closest girlfriends and family members,' she said. 'The night was everything I envisioned.'
"Sitting amongst hundreds of candles, Britney presided over a North African feast which included Moroccan brisket and salad Tangiers. The meal was topped with a cake in the shape of a Moroccan pot with a baby peeking out. Presents included a white wrought-iron bassinet from her mum, Lynne, a car seat, a stroller, and infant bathtub and lots of stuffed animals.
"'Everyone really outdid themselves,' the singer told People magazine. 'Even the packaging on some of the gifts was heartfelt.' 'I truly couldn't have been happier to share this day with people who are so close to my heart.'
"While everyone wrote personal messages in a book, Britney's mother and mother-in-law made emotional toasts. 'Lynne Spears talked about when she was pregnant with Britney and how she felt such emotion, and Kevin's mom, Julie, was saying that they're so happy Britney's a part of their family,' said Alyson Fox, whose company planned the event. 'Everyone's eyes were just welling up with tears.'" (2)
It is reported (3) that although Britney's baby "already has a nursery outfitted with $130,000 in spit-up rags and diaper genies and $10,000 in blue baby ensembles", her baby shower registry was not at an upscale baby boutique as you might think, rather it was at Walmart.
The Ready-for-Motherhood Britney gave birth to Preston Michael Spears Federline on Sept. 15, 2005 and is reportedly enjoying motherhood immensely. She has even been quoted as saying plans for a 2nd child may not be in the too distant future.
Click here for more celebrity baby shower news...
References:
(1) MSNBC
(2) BritneySpears.bz
(3) www.fool.com