Sweet Pea Baby Shower Thank You Card
You can use this free baby shower thank you card to tell all your guests "Thank You" for coming to your Sweet Pea Baby Shower. Thank you cards are a nice gesture to thank each guest for coming and express appreciation for the specific gift that they gave.
Thank you cards have a way of becoming a big hassle. So to try to help lesson the burden, print off the cards below (using a thick cardstock) and write a short note inside. This will save you the a trip to the store and a little money!
Here is a green sweet pea baby shower thank you card ...
These are easy to print - just follow the instructions at the bottom!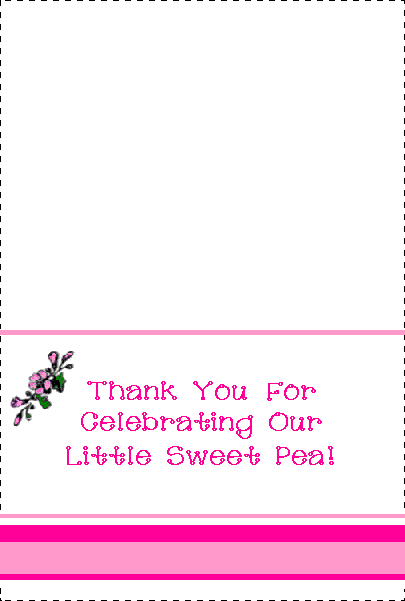 Printing Instructions: Right-click on the image you want and select the "save picture as..." line. Then, you will be asked which directory to save it to. Just save it onto your desktop or in any folder you want. Then on your desktop, double click on the image icon. When the image opens up, set your printer to the desired paper size and print the image.
Another printing option: If you have Microsoft Word, after you "save picture as..." explained above, open a blank document in Microsoft Word and go to the tab INSERT and then select PICTURE and then select FROM FILE. From there you just choose the directory from your computer where you saved the picture and click INSERT. And Voila! You can print it off as many times as you like.
After you print one of these thank you baby shower cards out for each guest, cut along the dotted lines, so none of the lines show and fold in half.
Here are more baby shower thank you cards ...