Fun and Free Baby Shower Word Scramble Game!
- Baby Name Babble -
Here is the free printable baby shower word scramble game card. This fun game will give your baby shower party a taste of BABY NAME BABBLE!
These scrambled up baby names are among the Top Baby Names of 2004. Everyone at the baby shower will LOVE to know which names are the most popular these days!
This free Baby Shower Word Scramble Game card is all ready for you to print off as many copies as you need for all your guests.
Printing instructions are found below at the bottom of this page.
Print one copy for each guest: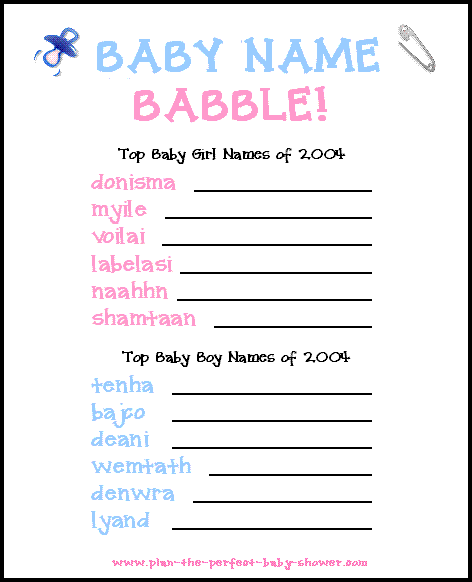 Printing Instructions: Right-click on the image you want and select the "save picture as..." line. Then, you will be asked which directory to save it to. Just save it onto your desktop or in any folder you want. Then on your desktop, double click on the image icon. When the image opens up, set your printer to the desired paper size and print the image (in color or black/white).
Another printing option: If you have Microsoft Word, after you "save picture as..." explained above, open a blank document in Microsoft Word and go to the tab INSERT and then select PICTURE and then select FROM FILE. From there you just choose the directory from your computer where you saved the picture and click INSERT. And Voila! You can print this fun baby shower game as many times as you like.
Instructions for this Baby Shower Word Scramble Game:
Preparation for this free baby shower game
: Make a list of 12 - 15 baby names. Then scramble up the letters of each name. Make copies of the list for each guest.
How to play this free baby shower game
: Give each guest a copy of the list and a pen or pencil. They must unscramble all of the names. Give them 5 - 6 minutes to unscramble the names, or everyone can play until someone unscrambles all of the names, whichever way you prefer. The first one to unscramble all of the words or unscramble the most words in the allotted time is the winner!
And here is the answer key:
(Print one copy of this answer sheet to have at the baby shower)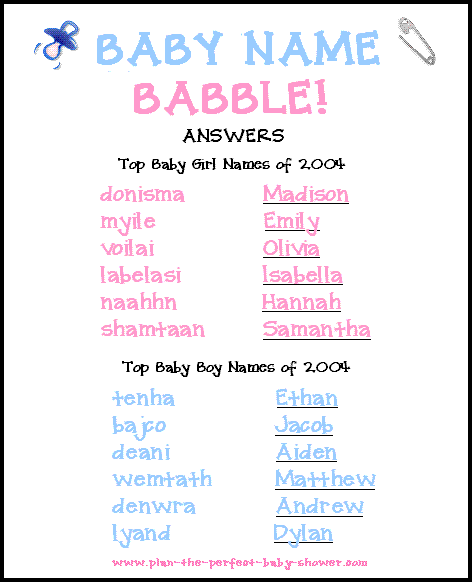 __________________________________________
Have Fun!!
Click here for another Baby Shower Word Scramble Game ...
Free Baby Shower Games