The Summertime Baby Shower Party Theme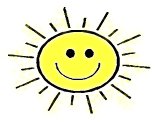 Outdoors Baby Shower Party Theme Ideas
There is an excitement and energy in the air during summertime that isn't felt at any other time of the year. And when you throw a summertime baby shower party theme, that same summertime energy & fun will be felt by everyone you invite to the party.
Imagine, for a moment, that you get a baby shower party invitation in the mail and it says, "It's a Summertime Baby shower Party!
Join us for an afternoon outdoors to celebrate Jennifer Smith's upcoming baby girl!" When you read this invite, what images come to mind? A beautiful, sunny day. Sun on your skin. Everyone in sandals & shorts. A cool breeze on your face. Ice cold lemonade. Tasty summer food. A baby shower doesn't get any better than that!
If you thought of any of those images, then you would surely agree that a summertime baby shower is the epitome of a perfect party and a wonderful way to celebrate a new little life.
How to Throw a Fun & Festive Summertime Baby Shower Party Theme
If you are planning on throwing a baby shower party this summer, then follow this recipe for a successful summertime shower:
1. You can use any baby shower party theme, but you do not need one. "Summertime" can be your theme and that gives you a lot of flexibility with the colors, decorations, food, games and favors.
2. Your colors should be bright, primary colors (no pastels). Combinations of bright colors are great, like reds & yellows, blues & yellows, raspberry pink & green, purple & green, purple & yellow, or Americana (red, white & blue). Your colors will be everywhere, starting with the invitations, then on to the decorations and favors.
3. Your invitations can be simple, or ornate - it doesn't matter. Just be sure to use your chosen colors. You could make a simple & easy summertime baby shower party invitation by matting one color of paper on top of a different color of paper. Then mount a piece of vellum or white paper on top of it all, where you can write or print the baby shower information. You can tie a ribbon or bow on the invitation (or paper punch two holes in the top of the invitation and loop the ribbon through). These are inexpensive but very cute.
4. Your summer baby shower menu could include:
   Shish-Kebabs
   BBQ anything
   Hamburgers
   Baked beans
   Coleslaw
   Cornbread & honey butter
   Potato salad
   Baked potatos (you could do a potato bar)
   Corn on the cob
   Vegetable platter with dip
   Watermelon
   Homemade ice-cream

5. For your summertime baby shower party favors, you could buy little, scented candles for your guests. Buy summertime scents, like sunflower, watermelon, strawberry, etc. Or you could buy little bottles of scented lotion. There are summertime scents like pina colada, pomegranate, melon, cucumber & melon, mango, sweet pea etc. Or you could also buy a sunflower bread mix for each guest (or buy ready-made loaves of sunflower bread at a bakery). This is a tasty & useful baby shower favor that each guest would love!
6. Baby shower party theme decorations should match your theme colors. The traditional party decorations are inexpensive and always fun - such as streamer, confetti, and balloons. You could buy a fresh bouquet of summer flowers to dress things up and to give your party a centerpiece. You could also decorate with summertime decor such as ladybugs, frogs, watermelon, sunflowers, sunglasses, etc.
7. Sumertime baby shower party games: The sky is the limit with outdoor baby shower games! You could set up a race course where the guests must race baby strollers with a doll in the stroller and if the baby gets knocked out during the race, then the racer is disqualified. The guest with the fastest time is the winner! Or you could divide up in teams of two and blindfold one guest on each team. Then the other teammate must feed the blindfolded guest a bowl of pudding or jello. The team who eats the most pudding in 1 or 2 minutes wins! You might want to give each guest a garbage bag to wear over their clothes because this can get quite messy!
Here are a bunch of baby shower games that would be great to play outdoors...
8. Watch the weather. If it rains or is cold/windy, be sure to have a back-up plan with someplace where you can move indoors.
There is just something magical and fun about an outdoor party. So, no matter which of these ideas you choose, your outdoor summertime baby shower party theme is almost a guaranteed fun time for everyone. And it is one that your guests will not soon forget!
Here are more cute baby shower party themes