Here is the deal:


You submit a clear & close-up picture of your baby shower invitation and a short description of what you used and how you made it. Whoever submits the cutest invitation wins 50 bucks! There will be two runners-up who will each win $25 cash. Go to bottom of this page to view an example invitation entry.
Use the Entry Form below
Submit your invitation by March 31st. All entries will be reviewed by 3 judges and the winners will be posted on March 31st on our homepage and our contest page . You may submit multiple entries, but Remember: Cute is what counts!
Contest Rules
Just 1 Rule, really: Your baby shower invitation must be original - not copied from another source.
- Important -
How to send your baby shower invitation & pictures:
Step 1. Submit the form below.
Step 2. Wait a few minutes for an email to be sent to the email address you submitted with the form.
Step 3. When you receive the email, simply reply to the message with your baby shower invitation pictures attached.
If for any reason, your submission doesn't work with the above form, and you don't receieve an email within 10 minutes, send your submission to feedback@plan-the-perfect-baby-shower.com
Your baby shower invitation photo and description will be posted to the Contest Page within 24-48 hours. The winners will be notified by email and posted on the homepage on March 31st.
If the photos you submit have any specific baby shower details on them - like names, phone numbers or adresses, then I will blur them out before I post them on the contest page.
By submitting your photos, you grant www.plan-the-perfect-baby-shower.com permission to republish and/or edit your photos & description, as needed.
SAMPLE ENTRY:
Theme: Baby Boy
Black & Blue Cardstock: The Paper Company
Pattern Paper: Carolee's Creations
Tag and Brad: Making Memories
Ribbon: Bobbin Ribbon
Font Stamp: My Sentiments Exactly!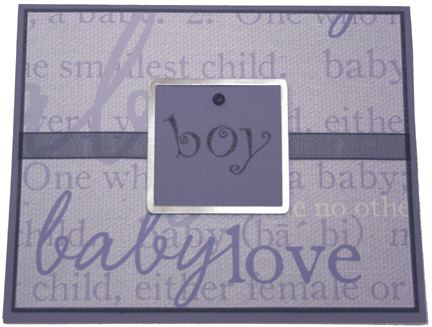 Inside Invitation: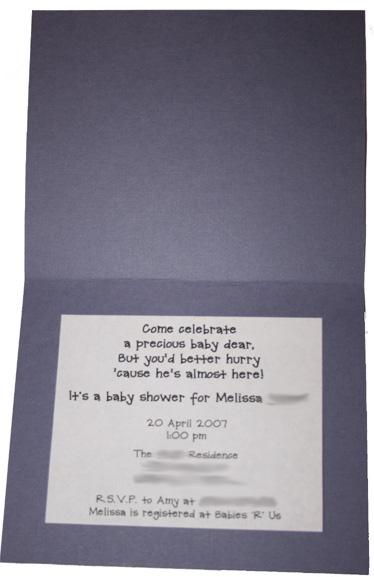 Note: You do not need to include the inside of your invitation if you do not wish to. If you do send a picture of the inside, I will blur out any personal details, as shown above.