Blurbs for Baby Shower Candy Bar Game
Here is a very fun, creative baby shower candy bar game that is great for large or small groups. You, as the baby shower hostess, can divide the guests into groups of 2, 3 or play the game individually.
Print out one game card (
below
) for each team. Give them a game card and pen or pencil and have them create some advice for the mother-to-be and her new little one using the list of candy & gum names. They may use the candy names only once. Give the teams 5 minutes or so to write their blurb and at the end have each team read what they wrote. The winner of the game is the guest or team who uses the most candy names in their blurb of advice.

Here is an example of what could be written:
If you don't want to be a dum dum, make good use of your sugar daddy during the infant/toddler years. Even though he can't take the baby down the Milky Way, he can help change the mounds of diapers. Even if he's a butterfinger, still make him feel like a Big Hunk so he continues to be one of your lifesavers. Even though men are from Mars and women are from Venus, an infant can give your marriage good and plenty of communication!
Enjoy this baby shower candy bar game!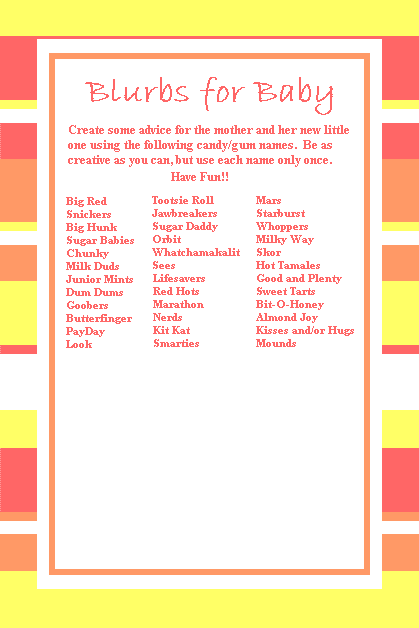 Printing Instructions: Right-click on the image you want and select the "save picture as..." line. Then, you will be asked which directory to save it to. Just save it onto your desktop or in any folder you want. Then on your desktop, double click on the image icon. When the image opens up, set your printer to the desired paper size and print the image (in color or black/white).
Another printing option: If you have Microsoft Word, after you "save picture as..." explained above, open a blank document in Microsoft Word and go to the tab INSERT and then select PICTURE and then select FROM FILE. From there you just choose the directory from your computer where you saved the picture and click INSERT. And Voila! You can print it off as many times as you like.
Print these baby shower candy bar game cards out on a heavy cardstock, so your game cards look and feel substantial and will be easier to write on.
Here are more baby shower games ...