Baby Haighzel Diaper Cake
by Shanda
(Illinois)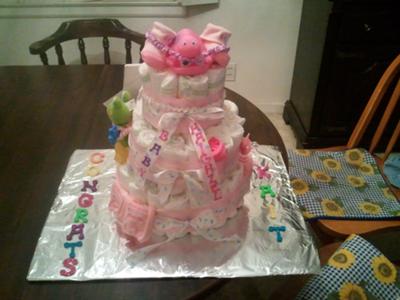 Look at this awesome diaper cake!!

Submitted by a thoughtful and creative reader, Shanda, this attractive diaper cake is loaded with ideas for our own diaper cakes :) Thank YOU!


Submit YOUR diaper cake ideas and pics to our diaper cake gallery!

Shanda's Comments:

This is my very FIRST diaper cake.
It includes a little of everything.
It includes:: size 1 & 2 diapers,Teething ring, 4 head bands, booties,mittens, turtle bath toy, two pacifiers with a clip, a photo frame and ink pad for first hand print and foot print, bath wash clothes (bath swaddle blanket is the giraffe that sitting on the table),one outfit, one can of formula, bath soap, lotion, rash cream, and baby shampoo.
Join in and write your own page! It's easy to do. How? Simply click here to return to Diaper Cake Invitation.