baby boy diaper cake by Tina
by Tina Keniley
(South Hill VA.)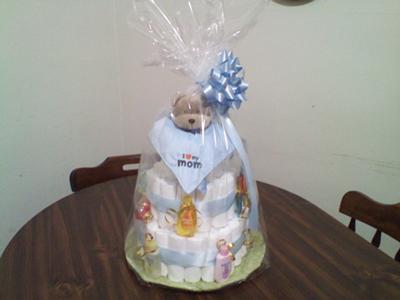 Simple, cute and classy! This diaper cake is an adorable creation and Tina has provided her directions on how to make it! It is her first diaper cake and it turned out so good.


Our incredible readers like Tina are the reason that this website is such a helpful resource for baby shower planners around the globe. They share their pictures, tips, ideas and encouragement with the rest of us. We love our readers!
Tina, thank you for sharing your fabulous diaper cake! It is so adorable! :)
Share your ideas here on our baby shower gallery!
Tina's Comments
:

This is the first diaper cake i ever made,for my sister in law at her baby shower.I simply followed an easy instructional video that i found online. I got allot of compliments on it,and would like to make another some time!it was simple...
-tape 2 baby bottles together as the base,roll the diapers up and rubberband them to hold in rolled shape,then put a rubberband around the bottom bottle and start slipping the rolled diapers under it creating 3 or 4 rows of diapers on the bottom layer.
-repeat with the second layer only put one less row of diapers,and again with the third layer.
-leave the the nipple and lid off of the top bottle leaving it open to insert flowers or help attach whatever topper you want to put on the cake.
-tape ribbon around each layer of cake to cover up rubber bands from view,decorate with any baby items you wish.
-and finally wrap in clear plastic or something similar,and tie with ribbon or bow at top for final touch...and there ya go! you did it! :)