Angel Lyrics Game Cards
Print and play this fun Angel Lyrics game for your Angel party! See how well everyone knows their Angel songs, from oldies to modern. You really know your music if you can get all of these right!
There are 7 different color combinations of these game cards to choose from for this game. Choose the color you like and follow the printing instructions below. Here are the same Angel Lyrics game cards , but with a baby angel graphic to dress up the card a little, if you prefer.
How to Play: You can play this game in groups of 2 or 3, or individually - whichever you prefer. Print the Angel Game cards below (Printing Instructions are below) - 1 for each guest or team. Give them a pen or pencil and they have 10 minutes to fill in all the lyrics correctly. Whoever gets the most lyrics correct wins the game! The answer key is at the very bottom of this page.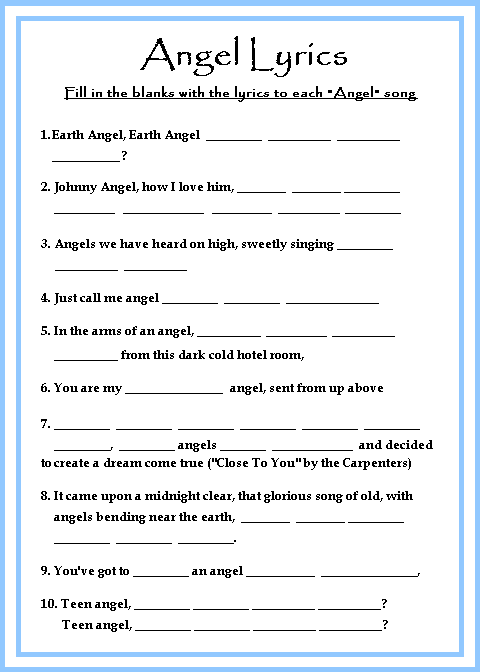 There are several ways to print this Angel lyrics game card. Whichever way you choose, I suggest that you print your game cards on a thicker cardstock for a higher quality game card. The EASIEST way to print this game card is to open this pdf printable Angel lyrics game and print it from there.
You will need Adobe Reader (the latest version is recommended) installed on your computer in order to open and print this baby shower game. You can get Adobe Reader for free here (a new window will open so you can download without leaving this page).
If you don't want to use the .pdf version, follow these Printing Instructions:
Right-click on the image you want and select the "save picture as..." line. Then, you will be asked which directory to save it to. Just save it onto your desktop or in any folder you want. Then on your desktop, double click on the image icon. When the image opens up, set your printer to the desired paper size and print the image (in color or black/white).
Another printing option: If you have Microsoft Word, after you "save picture as..." explained above, open a blank document in Microsoft Word and go to the tab INSERT and then select PICTURE and then select FROM FILE. From there you just choose the directory from your computer where you saved the picture and click INSERT. And Voila! You can print it off as many times as you like.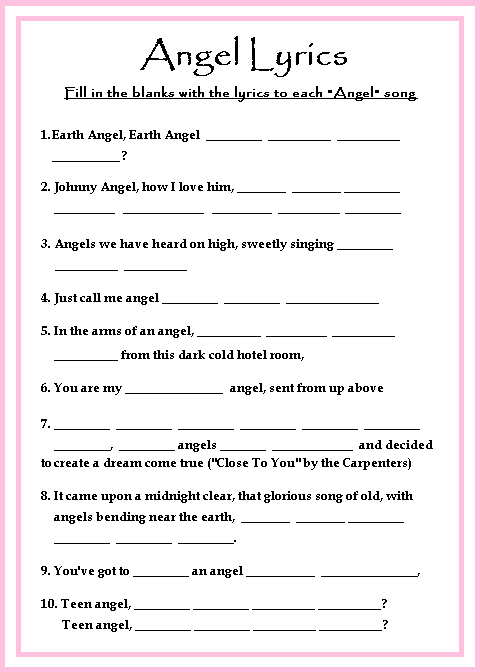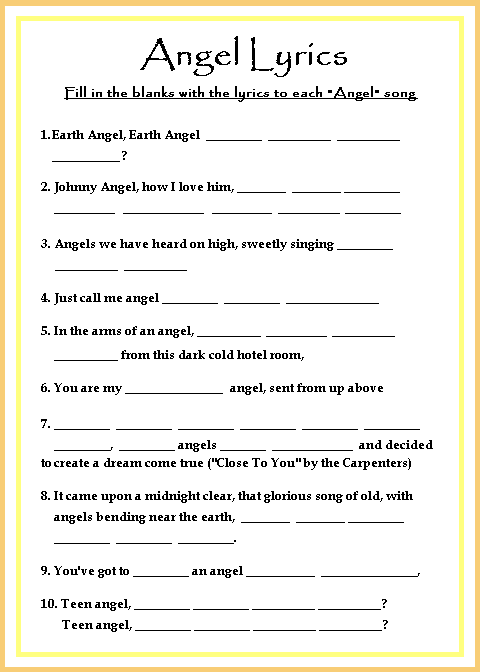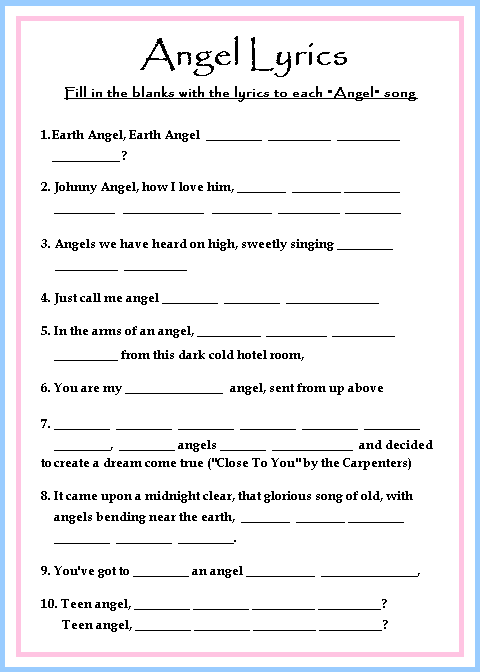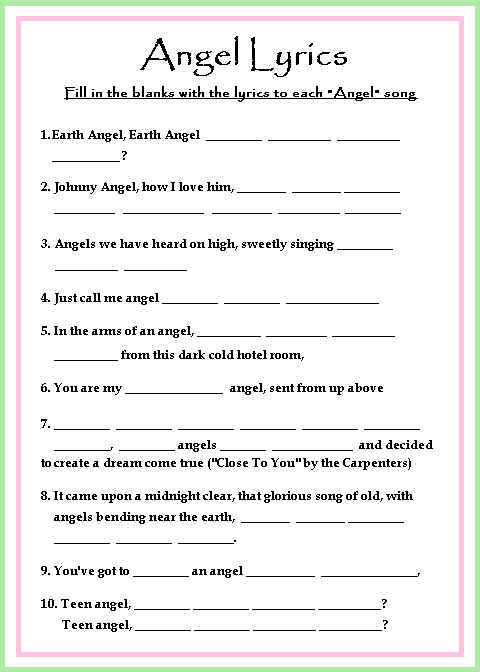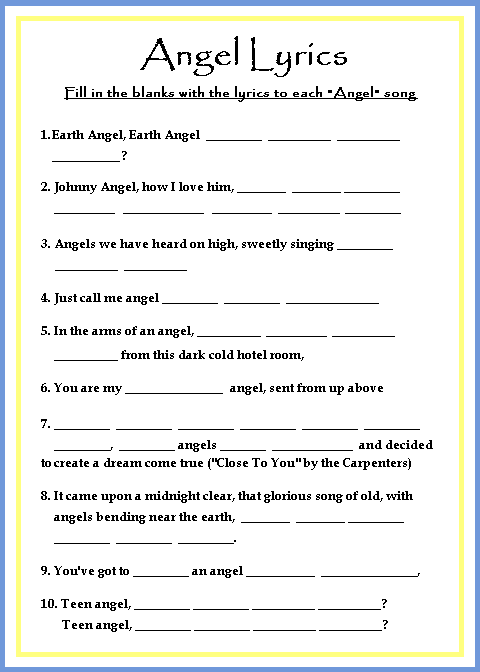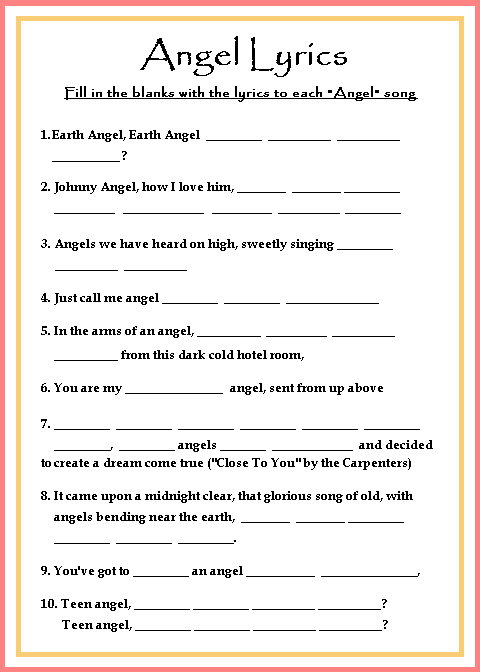 And here is the Angel Lyrics Game ANSWER KEY: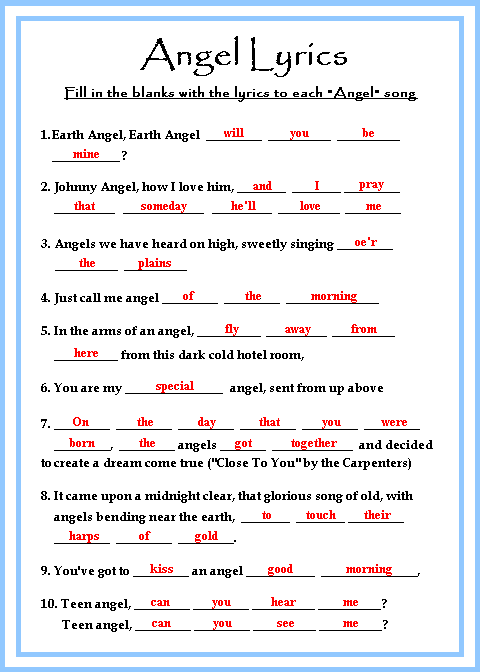 These printable Angel Lyrics Game cards are free for your personal use! Print off as many as you need for your guests.
Go back to our Angel Baby Shower theme page