A Few Alanis Morissette Baby Shower Details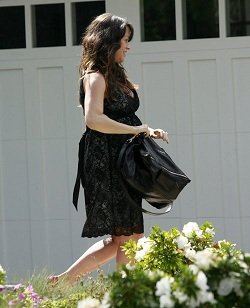 Singer Alanis Morissette was given a baby shower by some friends in October for her upcoming baby boy. The festivities were held at a friend's house in Santa Monica, California on October 24th. About 25 of Morissette's friends and family attended the shower. Even rapper Mario Treadway, aka Souleye, who is Alanis' husband, joined the party towards the end.
A source told PEOPLE magazine that Alanis was "beaming and showing off her cute baby bump in a black dress. She looked great." The theme appeared to be centered around a baby boy motif. Some of the baby shower guests were seen carrying blue balloons and "It's a boy" gift bags into the party, so it was inferred that she must be expecting a baby boy. The source also told PEOPLE that, "After enjoying catered food, the group also played loud games and seemed to have a lot of fun." Some of the gifts included stuffed animals, a diaper bag and Baby Bjorn rucksack carrier. Sounds like a wonderful way to celebrate an upcoming baby boy!
Morissette confirmed in August, on the E! show "Chelsea Lately", hosted by Chelsea Handler, that she was five months pregnant with her first child. The baby is due in December, around Christmastime. She Twittered at the time to share her excitement with the world. "Yes, happy news....i'm pregnant," she wrote. "We're so excited to start our family.... xo a."
We wish Alanis and Mario all the best in their upcoming addition to their family.
Photo: Flynet Pictures